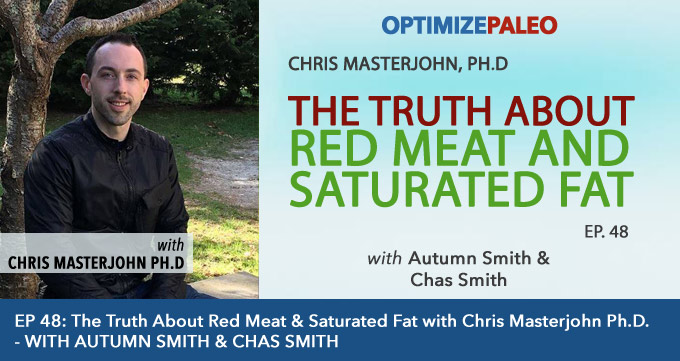 EP. 48: The Truth About Red Meat & Saturated Fat with Chris Masterjohn Ph.D.
The "Real" Truth About Red Meat & Saturated Fats
IN THIS EPISODE:
Chris has a Ph.D. in Nutritional Sciences from the University of Connecticut. He completed his post-doc at the University of Illinois at Urbana-Champaign, and is currently Assistant Professor of Health and Nutrition Sciences at Brooklyn College, part of the City University of New York.
And as his resume suggests, he is one smart cookie!
In fact, there is truly no one more knowledgable on the subject of dietary fats.
In fact, he knows so much about the topic that it may actually make your brain hurt!
In a good way, of course. 😊
Here are some of the fascinating snippets you're in for:
What symptoms made him abandon his vegan diet

What research shows is the #1 most anxiolytic food

Why those prone to anxiety may benefit from more protein

Why he believes the recommendations to limit saturated fat will soon crumble

What saturated fat is

Which foods are highest in saturated fats (this will surprise you!)

What the only high quality, properly controlled studies revealed about saturated fats and veggie oils

The MAJOR limitation of most studies about saturated fat

The major health issue vegetable oil consumption appears to cause that is seldom reported

The million dollar questions that 40 years of research has STILL failed to answered

Which fats our ancestors were consuming for vibrant health

The health benefits of high quality saturated fat

The type of saturated fat that is beneficial for mitochondria and may help reduce your risk of Parkinson's

Why it's silly to micromanage our dietary saturated fat intake

The fats that are beneficial for shifting body composition

Which population may benefit from a stick of butter a day

Whether or my red meat is as dangerous as Americans have been lead to believe

Why he thinks the WHO's recommendations about red meat are "noise in the background of science."

What your antioxidant status has to do with your red meat intake

How to interpret your 23 & Me, DNA testing results

The foods you should be eating to get the best dietary fats

And much more!
SHOW NOTES:
Check out Chris' website, The Daily Lipid here:
http://chrismasterjohnphd.com/
Connect with Chris on Social Media
Facebook: https://www.facebook.com/chrismasterjohn/
Twitter: https://twitter.com/ChrisMasterjohn
Thanks for listening!
Thanks so much for joining us this week. Have some feedback you'd like to share or a question you'd like to ask? Leave a note in the comment section below!
If you enjoyed this episode, please share it using the social media buttons you see in this post.
Also, we'd love it if you would leave an honest review for The Optimize Paleo Podcast on iTunes! Ratings and reviews are super helpful and greatly appreciated as it helps us expose this show to a wider audience and spread this information to more people who need to hear it. We read every review so we look forward to hearing from you!
And finally, don't forget to subscribe to the show on iTunes to get automatic updates…see you next time!
Click the button below to subscribe on iTunes: