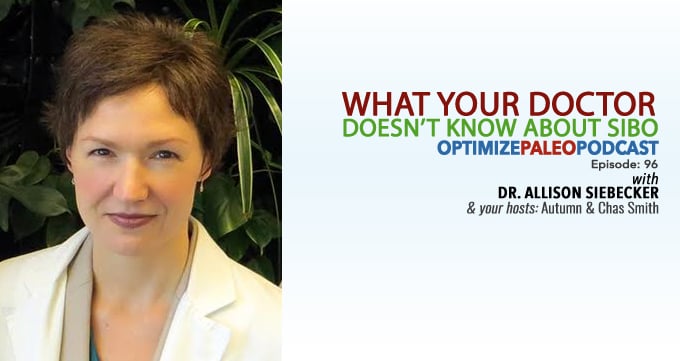 EP96: What your doctor doesn't know about SIBO with Dr. Siebecker
What is SIBO and How Does it Apply to YOU?!
IN THIS EPISODE:
Allison Siebecker, ND, MSOM, LAC, has worked in the nutritional field since 1988 and is a 2005 graduate of The National University of Natural Medicine (NUNM), where she earned her Doctorate in Naturopathic Medicine and her Masters in Oriental Medicine. She was the co-founder and former medical director of the SIBO Center for Digestive Health at NUNM Clinic and has specialized in the treatment of SIBO since 2010.
In 2005, 2013 and 2015 she received the Best in Naturopathy award from the Townsend Letter, for her articles: "Traditional Bone Broth in Modern Health and Disease", "Small Intestine Bacterial Overgrowth: Often Overlooked Cause of IBS" and "SIBO: Dysbiosis Has A New Name", just to name a few.
Here are some of the fascinating nuggets you're in for:
What Dr. Siebecker knows that your doctor probably doesn't
Why she became so passionate about SIBO
What is SIBO?
What are the symptoms of SIBO?
What your doctor doesn't know about SIBO
The consequences of unaddressed SIBO
Five healthy foods those with SIBO can't tolerate
The difference between paleo and SIBO diets
The best diets for SIBO
The common paleo staple that is problematic for those with SIBO
Health conditions that may be confused for SIBO
What migrating motor complexes are and why they matter for those with SIBO
How do diagnose SIBO
Why IBS is often mistaken for SIBO
Why not all SIBO tests are accurate (and which is the MOST accurate)
A shockingly common cause of SIBO
A new test for SIBO that detects autoimmune symptoms
Who the WORLD's expert on SIBO really is
What are the next steps for those who can't manage it with diet?
How to know whether or not you have chronic SIBO
The link between anemia and SIBO
The percentage of people she works with that can fully resolve SIBO
And much more!
Thanks for listening!
Thanks so much for joining us this week. Have some feedback you'd like to share or a question you'd like to ask? Leave a note in the comment section below!
If you enjoyed this episode, please share it using the social media buttons you see in this post.
Also, we'd love it if you would leave an honest review for The Optimize Paleo Podcast on iTunes! Ratings and reviews are super helpful and greatly appreciated as it helps us expose this show to a wider audience and spread this information to more people who need to hear it. We read every review so we look forward to hearing from you!
And finally, don't forget to subscribe to the show on iTunes to get automatic updates…see you next time!
Click the button below to subscribe on iTunes: