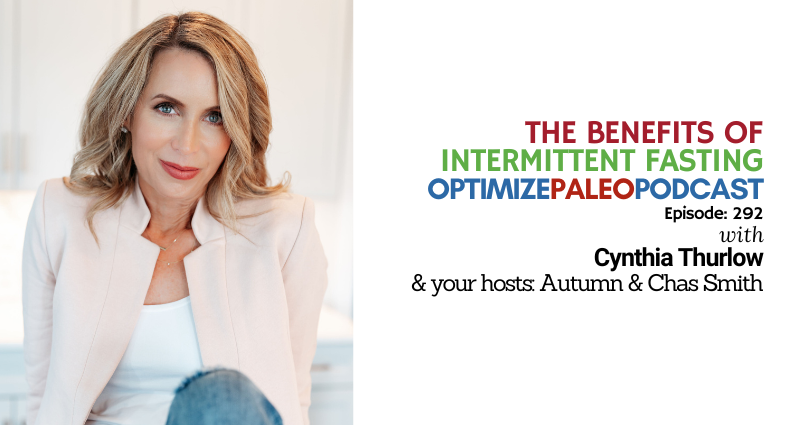 EP292: The Benefits of Intermittent Fasting with Cynthia Thurlow
One of the tools I've found most helpful for people during the holiday season is intermittent fasting (IF). IF is a powerful practice that requires you eat during certain windows of time and fast the rest of the time.
In other words, you don't have to change what you eat - just when. And its benefits include…
Fat burning
Reduced heart disease risk
Improved memory
Reduced caloric intake
The best part? It's free, flexible and simple and you can still reap the benefits even if you don't eat perfectly.
(which is why it's one of my favorite holiday tools!)
To learn all about IF and its beautiful benefits check out this week's podcast with nurse practitioner and international speaker, Cynthia Thurlow. Here are some of the fascinating takeaways…
The benefits of intermittent fasting
Cynthia's morning routine
How intermittent fasting affects hormones
How to reduce your risk of reproductive cancers
The morning drink that improves IF's benefits
The supplements you can take while fasting
Fasting benefits for mental health
How to reduce cravings during fasting
Why fasting might be hard for you (and how to make it easier!)
How to fast with your cycle
When you should not fast
How much protein, fat and carbohydrates we should have each day
The trigger foods you may want to monitor
The hormone that makes you more insulin sensitive
Why alcohol can lead to weight gain
And much more!
Please share this podcast with anyone you think it might help and have a wonderful, healthy, happy holiday, friends!

Valuable Resources:

Paleovalley Apple Cider Vinegar Complex
>>> Click HERE to Support Healthy Blood Sugar Levels 100% Risk-Free TODAY!

Intermittent Fasting Transformation by Cynthia Thurlow
>>> Learn MORE about Cynthia's work + Get her book HERE!
Bio:
Cynthia Thurlow is a nurse practitioner, CEO and founder of the Everyday Wellness Project, and international speaker, with over 9.6 million views for her second TEDx talk (Intermittent Fasting: Transformational Technique). With over 20 years experience in health and wellness, Cynthia is a globally recognized expert in intermittent fasting and nutritional health, and has been featured on ABC, FOX5, KTLA, CW, Medium, Entrepreneur, and The Megyn Kelly Show. She was listed in Yahoo Finance as one of the, "21 Founders Changing the Way We Do Business." Cynthia hosts the Everyday Wellness podcast, considered one of "21 Podcasts To Expand Your Mind in 2021" by Business Insider. Her mission is to educate women on the benefits of intermittent fasting and overall holistic health and wellness, so they feel empowered to live their most optimal lives.
Thanks for Listening!
Thanks so much for joining us this week. Have some feedback you'd like to share or a question you'd like to ask? Email us at [email protected]!
If you enjoyed this episode, please share it using the social media buttons you see in this post.
Also, we'd love it if you would leave an honest review for The Optimize Paleo Podcast on iTunes! Ratings and reviews are super helpful and greatly appreciated as it helps us expose this show to a wider audience and spread this information to more people who need to hear it. We read every review so we look forward to hearing from you!
And finally, don't forget to subscribe to the show on iTunes to get automatic updates…see you next time!
Click the button below to subscribe on iTunes: