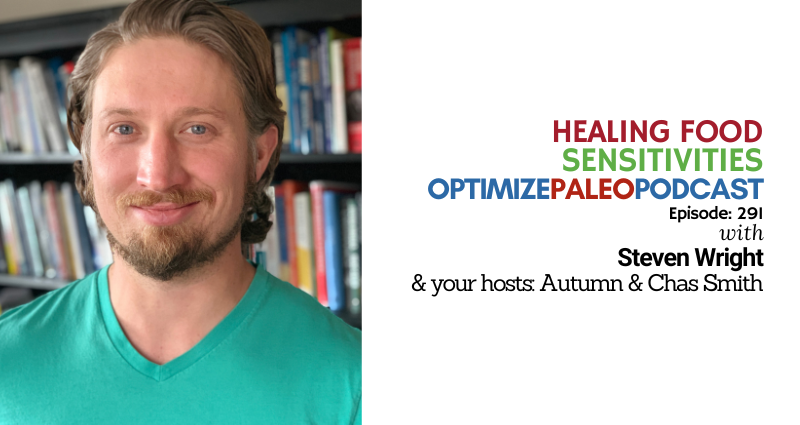 EP291: Healing Food Sensitivities with Steven Wright
The incidence of food reactions (allergies, intolerances, sensitivities) is on the rise.
But what many people don't know is that it is possible to heal certain types of food reactions.
(Celiac Disease and food allergies, being a notable exception!)
When my son was younger he reacted to several foods like wheat, corn, dairy and sometimes even chocolate.
And while the elimination diet did help us manage his symptoms - avoiding so many foods was stressful, especially as he started going to school.
Thankfully, my dear friend Steven Wright (engineer, gut expert and founder of Healthy Gut) helped me heal my son's food sensitivities from the root.
Today, my son can essentially eat all foods except for those that contain gluten.
This change was so miraculous for our family, that I invited Steven on to the podcast this week so that he can teach you all how to heal food sensitivities from the root. Here are some of the fascinating tidbits we cover:
What causes food sensitivities?
The difference between food sensitivities and food allergies
3 little known reasons the incidence of food reaction is rising
Why PPIs can be dangerous
Why stomach acid is not the enemy
The most common food reactions
3 issues that underlie food sensitivities
The incredible importance of short chain fatty acid (and how to find them)
Why food elimination diets are not enough
The 4 steps for healing food reactions
The best supplements for healing food sensitivities
How to prevent food allergies and sensitivities in kids
And so much more!
I hope you love this podcast as much as I did! Please tag someone in the comments who you think will benefit from this information and use these principles as you head into the holiday season.
Valuable Resources:
HealthyGut.com
>>> Stay up to date on cutting edge gut health research & protocols + SAVE $15 with code: PALEO15 on proven products HERE!
Paleovalley Apple Cider Vinegar Complex
>>> Click HERE to Get up to 20% Off TODAY!
Bio:
Steven Wright is a Medical Engineer, Kalish Functional Medicine Institute Graduate, and gut health specialist. He's spent close to $400,000 overcoming his own health challenges using everything from western medicine to shamans. Steven is the founder of healthygut.com. He lives in Boulder, CO with his fiancé Shay and their two dogs.
Thanks for Listening!
Thanks so much for joining us this week. Have some feedback you'd like to share or a question you'd like to ask? Email us at [email protected]!
If you enjoyed this episode, please share it using the social media buttons you see in this post.
Also, we'd love it if you would leave an honest review for The Optimize Paleo Podcast on iTunes! Ratings and reviews are super helpful and greatly appreciated as it helps us expose this show to a wider audience and spread this information to more people who need to hear it. We read every review so we look forward to hearing from you!
And finally, don't forget to subscribe to the show on iTunes to get automatic updates…see you next time!
Click the button below to subscribe on iTunes: