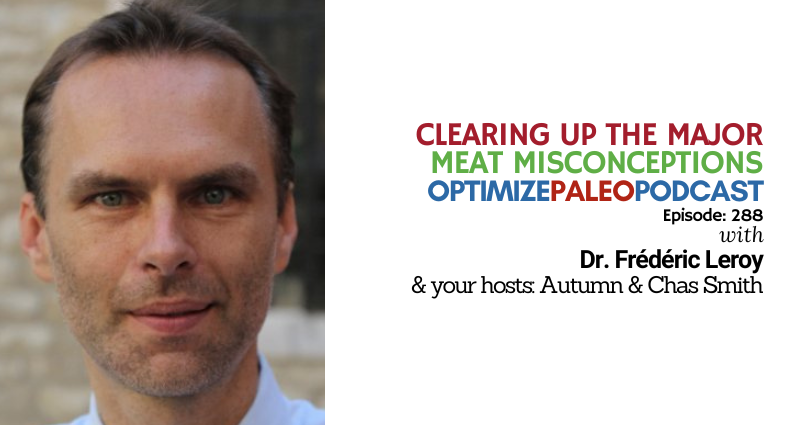 EP288: Clearing up the Major Meat Misconceptions with Dr. Frédéric Leroy
Red meat is one of the most controversial foods in our modern-day diet.
On one hand - it's a food we've been consuming for millions of years that provides some of our most valuable nutrients.
Yet, according to the 2019 Global Burden of Disease report, there is no safe level of red meat consumption.
To help you wade through the controversies and find the truth we have food scientist and scientific advisor, Dr. Frédéric Leroy on the podcast this week!
Dr. Leroy has been instrumental in ensuring the science around red meat and animal products is accurately represented in publications like the Global Burden of Disease, and has some surprising updates about the legitimacy of its claims.
If you're confused about whether animal products and processed meats are healthful or harmful - you do not want to miss this show!
Here are some of the highlights….
Why Kellogg's cereal and fake meats were created
Why The Global Burden of Disease is flawed
The problem with red meat research
The difference between plant and animal protein
The population who may want to avoid too much red meat
Are processed meats dangerous?
The most dangerous processed foods
The difference between meats fermented and processed meats
Does meat cause cancer?
The important difference between hazard and risk
Are vegetable oils toxic?
And much more!
Please tune in and share this important message with everyone you think may benefit.
Valuable Resources:

Paleovalley 100% Grass Fed Beef Sticks
>>> Try Naturally Fermented 100% Grass Fed Beef Sticks HERE!
Animal Source Foods in Ethical, Sustainable, and Healthy Diets
>>> Click HERE to Read the Article
Bio:
Frédéric Leroy graduated as a Bioengineer (Ghent University, 1998) and obtained a PhD in Applied Biological Sciences at the Free University of Brussels in Belgium (2002), where he now holds a professorship in food science and (bio)technology. His research deals with food processing, nutrition, human and animal health, and interdisciplinary food studies. He is a member of academic non-profit societies, i.e., the Belgian Association of Meat Science and Technology (BAMST, president), Belgian Society for Food Microbiology (BSFM, president), and Belgian Nutrition Society (BNS). On a non-remunerated basis, he also serves on the Scientific Board of the World Farmers' Organization (WFO), the FAO/COAG Sub-Committee on Livestock, and various other scientific advisory boards in the domain of food and agriculture.
Thanks for Listening!
Thanks so much for joining us this week. Have some feedback you'd like to share or a question you'd like to ask? Email us at [email protected]!
If you enjoyed this episode, please share it using the social media buttons you see in this post.
Also, we'd love it if you would leave an honest review for The Optimize Paleo Podcast on iTunes! Ratings and reviews are super helpful and greatly appreciated as it helps us expose this show to a wider audience and spread this information to more people who need to hear it. We read every review so we look forward to hearing from you!
And finally, don't forget to subscribe to the show on iTunes to get automatic updates…see you next time!
Click the button below to subscribe on iTunes: