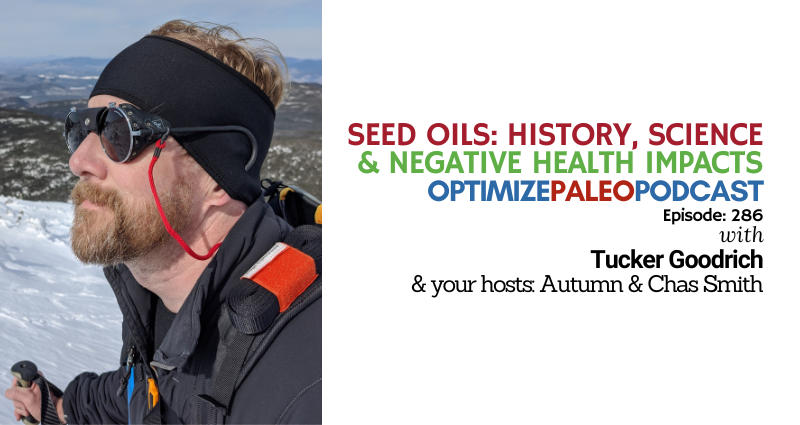 EP286: Seed Oils: History, Science and Negative Health Impacts with Tucker Goodrich
Today many of us understand that processed foods, excess carbohydrates, and gluten (for certain individuals) may contribute to ill health.
But what is not as well known is that omnipresent seed oils (cottonseed, corn, soy, canola, etc.) may also be playing an important role in weight gain and disease.
Seed oils are thought to be heart-healthy because they lower cholesterol, but clinical trials have also revealed that replacing saturated fats with seed oils may have deleterious health consequences.
Tune in for all the juicy details and why upgrading your cooking oils may be one of the best dietary changes you can make with expert, Tucker Goodrich! Here are some of the fascinating tidbits we cover:
The difference between seed oils and fruit oils
What makes seed oils fragile and dangerous
The 2 ways seed oils cause obesity
The problem with seed oils for children and nursing moms
How to tell if a seed oil has gone rancid
The type of cancer you can get from frying seed oils
The most fattening foods in the American diet
Why Tucker believes seed oil research is deceptive
The two mechanisms by which seed oils cause obesity
How seed oils give us the munchies
Why seed oils may be more dangerous than excess carbs
Which is worse in animal trials: trans fat or seed oils?
The link between seed oils, fibromyalgia, autoimmune issues
What high oleic oil actually means
What the research around seed oils says
How Tucker healed his IBS and carb cravings overnight
And so much more!
Thanks for listening! Please share this information with anyone you think may benefit!
Valuable Resources:

EP286 Show Notes
>>> Click HERE to check out show notes from Tucker!

Paleovalley Supergreens
>>> Easily get your nutrients every day with Paleovalley Organic Supergreens + SAVE up to 20% TODAY!
Zero Acre Farms
>>> Click HERE to Learn More + Shop Cultured Oil
Seedy App
>>> Click HERE to Get the App that makes seed oil-free shopping easy!
Bio:
Tucker Goodrich is a technology executive in the financial industry who designs, runs, and debugs complex systems in high-risk environments. Areas of expertise include risk management, systems management, and cyber-security.
After experiencing some personal health crises and realizing that the 'solutions' offered by medical professionals weren't working or addressing causation he started applying the same approach in research and evaluation of data to his own health issues to determine root causes.
His interests have focused on dietary and environmental drivers of chronic disease, including carbohydrates, wheat, and various classes of fats. Specifically, he's attempting to understand and popularize understanding of the mechanisms driving the diet-derived explosion in so-called chronic diseases (or diseases of civilization). He is active on Twitter (@tuckergoodrich, has a blog called Yelling Stop, a podcast/Youtube channel, is an Expert Advisor for the nutrition start-ups Zero Acre Farms and Nutrita, and has been a guest on numerous podcasts.
Thanks for Listening!
Thanks so much for joining us this week. Have some feedback you'd like to share or a question you'd like to ask? Email us at [email protected]!
If you enjoyed this episode, please share it using the social media buttons you see in this post.
Also, we'd love it if you would leave an honest review for The Optimize Paleo Podcast on iTunes! Ratings and reviews are super helpful and greatly appreciated as it helps us expose this show to a wider audience and spread this information to more people who need to hear it. We read every review so we look forward to hearing from you!
And finally, don't forget to subscribe to the show on iTunes to get automatic updates…see you next time!
Click the button below to subscribe on iTunes: