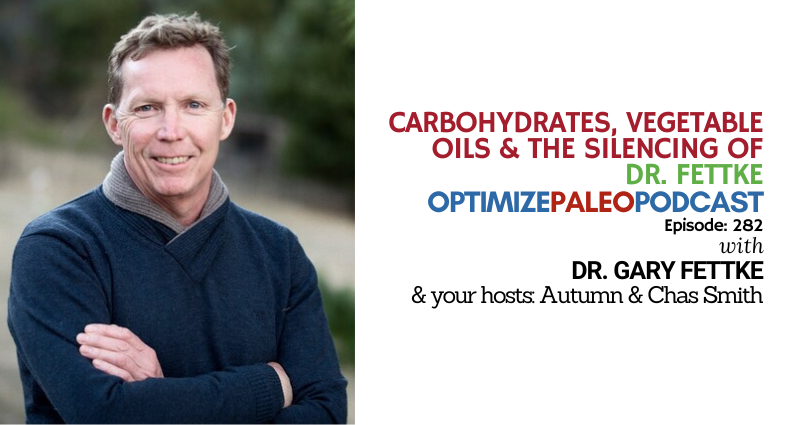 EP282: Carbohydrates, Vegetable Oils and the Silencing of Dr. Fettke
In 2014 Dr. Gary Fettke, an orthopedic surgeon in Tasmania, was reported to the medical board for suggesting his diabetic patients reduce their sugar intake despite sound scientific evidence and clinical experience to support his recommendations.
He was the first doctor ever silenced from talking about nutrition.
After years of litigation, Dr. Fettke was eventually exonerated but confusion regarding the role of carbohydrates and sugar in human health remains.
Tune in to this week's podcast to hear all about Dr. Fettke's journey, the role of carbohydrates in pain management and human health, the problems with vegetable oils and the many invisible forces driving our mainstream dietary recommendations.
If you want to make educated decisions regarding your health, you need to hear what Dr. Fettke has learned! Here are some of my favorite takeaways:
Why Dr. Fettke got reported to the medical board
The true effects of sugar
How much sugar our body handles at one time
The invisible influences inherent in medical deductions
The role of carbohydrates in type 2 diabetes
A simple dietary step to reduce pain and inflammation
Where the message that "breakfast is the most important meal of the day" originated
How vegetable oils were created and why they are problematic
The problem with the "Plant-Based" movement
Surprising places you'll find vegetable oils
The overlooked truth about the Blue Zones
And so much more!
Please share this with anyone that may benefit from this information!
Valuable Resources:

Wild Pastures Grass Fed & Pasture Raised Meat Delivery
>>> Click HERE to lock in 20% OFF every box + free shipping… for life!

Paleovalley Beef Sticks
>>> Make the switch to grass fed with Paleovalley 100% Grass Fed Beef Sticks!
Bio:
Dr Gary Fettke is an Australian Orthopaedic Surgeon and vocal proponent of nutrition being a major component of prevention and management of modern disease, particularly arthritis and Type 2 diabetes.
In 2014, he became targeted by the processed food industry for his opinion on the perils of excessive sugar consumption, culminating in a 'silencing' by the Medical Board. 2018 saw a clearance of those charges with an apology from the board.
In the process of that investigation, it became apparent that the issues were not just that of sugar reduction, but that of the recommendation of animal-based protein and healthy fats in a balanced diet.
He has a broad understanding of the vested interests shaping dietary guidelines and particularly those around the anti red meat agenda.
Thanks for Listening!
Thanks so much for joining us this week. Have some feedback you'd like to share or a question you'd like to ask? Email us at [email protected]!
If you enjoyed this episode, please share it using the social media buttons you see in this post.
Also, we'd love it if you would leave an honest review for The Optimize Paleo Podcast on iTunes! Ratings and reviews are super helpful and greatly appreciated as it helps us expose this show to a wider audience and spread this information to more people who need to hear it. We read every review so we look forward to hearing from you!
And finally, don't forget to subscribe to the show on iTunes to get automatic updates…see you next time!
Click the button below to subscribe on iTunes: