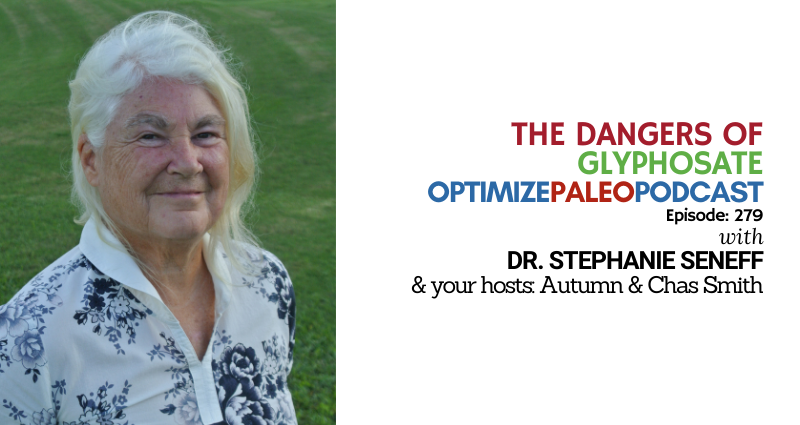 EP279: The Dangers of Glyphosate with Dr. Stephanie Seneff
We've all heard about the controversy surrounding glyphosate, Roundup's main ingredient.
In 2015 The International Agency for Research on Cancer concluded glyphosate may possibly cause cancer in humans.
Thousands of lawsuits have also been filed against Bayer, the maker of Roundup, and in 2018 a groundskeeper, diagnosed with non-Hodgkin's Lymphoma, was awarded $289 million.
Yet, the EPA and FDA deem glyphosate safe, which is why it can still be found in our food and many paleo staples.
Thankfully, Dr. Stephanie Seneff Ph.D., a senior research scientist at MIT's Computer Science and Artificial Intelligence Laboratory, author, and glyphosate expert is on this week's podcast to cut through the controversy. We discuss the research regarding glyphosate's safety, how glyphosate exerts its toxic effects, foods most often contaminated with glyphosate (I think this will surprise you!), and what we can do to help our body detoxify.
You do NOT want to miss this episode! Here are some of the other interesting tidbits we'll cover…
Simples ways to detox glyphosate
The most common foods contaminated with glyphosate
The link between glyphosate, autism and neurodegenerative disease
How glyphosate affects gut microbes and immune health
How glyphosate affects mental health
How glyphosate affects sleep
The link between reproductive issues and glyphosate
The link between vitamin D deficiency and glyphosate
Why collagen is particularly vulnerable to glyphosate's destruction
The animal products most often tainted with glyphosate
The difference between non-GMO and organic
Simple ways to improve immune health
3 ways you to reduce glyphosate in food and community
And so much more!
Please share with friends who might benefit from this important information!
Valuable Resources:
Toxic Legacy by Stephanie Seneff
>>> Click HERE to Learn more about the book + Get 35% OFF with discount code: POD35
Paleovalley Apple Cider Vinegar Complex
>>> Click HERE to Support gut health with Paleovalley Apple Cider Vinegar Complex!
Bio:
Stephanie Seneff, PhD is a senior research scientist at MIT's Computer Science and Artificial Intelligence Laboratory. She has a bachelor's degree in biology with a minor in food and nutrition, and a master's degree, an engineer's degree, and a PhD in electrical engineering and computer science, all from MIT. She has authored over three dozen peer-reviewed journal papers on topics relating human disease to nutritional deficiencies and toxic exposures. She has focused specifically on the herbicide glyphosate and the mineral sulfur. Dr. Seneff splits her time equally between two homes in Hawaii and Massachusetts. She is the author of Toxic Legacy: How the Weedkiller Glyphosate is Destroying Our Health and the Environment (Chelsea Green Publishing, July 2021).
Thanks for Listening!
Thanks so much for joining us this week. Have some feedback you'd like to share or a question you'd like to ask? Email us at [email protected]!
If you enjoyed this episode, please share it using the social media buttons you see in this post.
Also, we'd love it if you would leave an honest review for The Optimize Paleo Podcast on iTunes! Ratings and reviews are super helpful and greatly appreciated as it helps us expose this show to a wider audience and spread this information to more people who need to hear it. We read every review so we look forward to hearing from you!
And finally, don't forget to subscribe to the show on iTunes to get automatic updates…see you next time!
Click the button below to subscribe on iTunes: