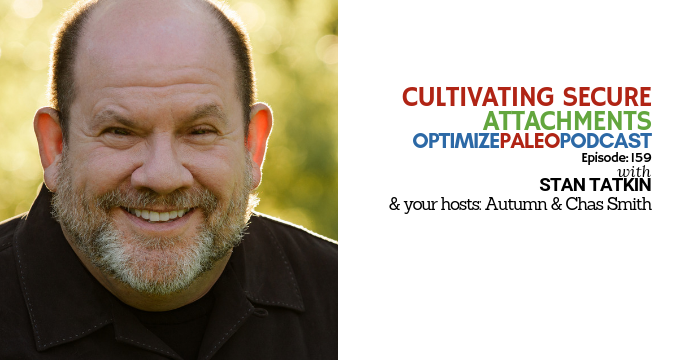 EP159: Cultivating Secure Attachments with Stan Tatkin
IN THIS EPISODE:
Did you know that the QUALITY of your relationships can make or break your health?
I think most of us are aware of the research demonstrating that people with MORE social ties have better health outcomes. But what I don't think is talked about often enough is that the QUALITY of your social ties is just as (if not, more) important.
In fact, a recent Harvard study revealed that…
"...high conflict marriages are worse for our health than divorce."
This same research also found that when looking at the data from the 700 participants in the Harvard Study of Adult Development...
"...It wasn't their middle aged cholesterol levels that predicted how they were going to grow old, it was how satisfied they were in their relationships. The people who were the most satisfied in their relationships at age 50 were the healthiest at age 80."
My point is...when it comes to health, it's not about having a lot of relationships, it's about having high quality, "securely attached" relationships.
What does a "securely attached relationship" look like, you ask?
Well you'll just have to listen to this week's podcast with the brilliant (and highly entertaining) author of Wired to Love and We Do, Stan Tatkin, to find out!
Stan Tatkin, PsyD, MFT, is a clinician, teacher, and developer of A Psychobiological Approach to Couple Therapy®(PACT). He has a clinical practice in Calabasas, CA, where he has specialized for the last 15 years in working with couples and individuals who wish to be in relationships. He and his wife, Tracey Boldemann-Tatkin, developed the PACT Institute for the purpose of training other psychotherapists to use this method in their clinical practice.
In this incredibly enlightening podcast we talk all about…
The 3 different attachment styles (i.e. Why we are the way we are in relationships)
Why I shouldn't take my husband's need for space personally (and neither should you!)
How to find out what your partner TRULY needs
How to create secure attachments
How to remedy insecure attachments
The #1 thing you MUST do to maintain a secure attachment
And so much more! Securely attached relationships are far more powerful than any medicine so please do yourself a favor and listen and share this podcast with anyone you think may benefit! I hope you love it as much as I did.
<3
Stan's Books:
Thanks for listening!
Thanks so much for joining us this week. Have some feedback you'd like to share or a question you'd like to ask? Email us at [email protected]!
If you enjoyed this episode, please share it using the social media buttons you see in this post.
Also, we'd love it if you would leave an honest review for The Optimize Paleo Podcast on iTunes! Ratings and reviews are super helpful and greatly appreciated as it helps us expose this show to a wider audience and spread this information to more people who need to hear it. We read every review so we look forward to hearing from you!
And finally, don't forget to subscribe to the show on iTunes to get automatic updates…see you next time!
Click the button below to subscribe on iTunes: