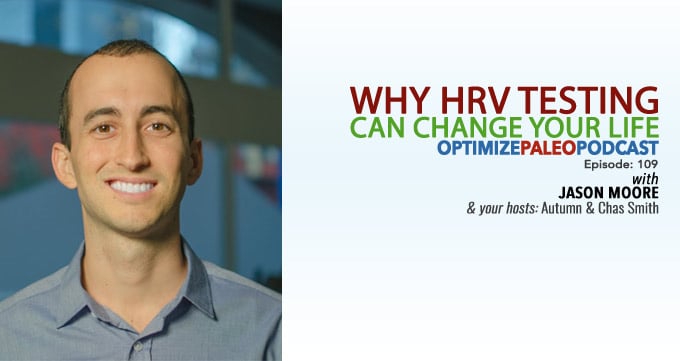 EP109: Why HRV Testing Can Change Your Life
Do you know your HRV?! Tune in Now to Find out More!
IN THIS EPISODE:
Jason is the Director and Instructor of National Academy of Sports Medicine and National Strength and Conditioning Association accredited coursework on Heart Rate Variability. He is the Founder and CEO of Elite HRV – the Heart Rate Variability platform now used by Olympians, pro sports, doctors, first responders, and over 150,000 health and performance seekers.
Here's what you'll learn in this awesome and action-packed episode:
What HRV testing is and how it was discovered
The health issues HRV is linked to in the research (this will shock you!)
The life threatening health condition often precipitated by a drop in HRV
Why Olympic athletes have been using it for YEARS
Why Jason thinks HRV is the mother of ALL biomarkers (and why I agree!)
The link between HRV and inflammation
How and When to measure your HRV
What your HRV can tell you about food sensitivities
Why HRV can help you dial in your diet
How to determine whether your HRV is in a good range
Whether or not your HRV should always be high
The simplest devices for measuring HRV
Supplements that raise HRV
Lifestyle factors that raise HRV
How to become and HRV pro
And much, MUCH more!
SHOW NOTES:
Thanks for listening!
Thanks so much for joining us this week. Have some feedback you'd like to share or a question you'd like to ask? Leave a note in the comment section below!
If you enjoyed this episode, please share it using the social media buttons you see in this post.
Also, we'd love it if you would leave an honest review for The Optimize Paleo Podcast on iTunes! Ratings and reviews are super helpful and greatly appreciated as it helps us expose this show to a wider audience and spread this information to more people who need to hear it. We read every review so we look forward to hearing from you!
And finally, don't forget to subscribe to the show on iTunes to get automatic updates…see you next time!
Click the button below to subscribe on iTunes: