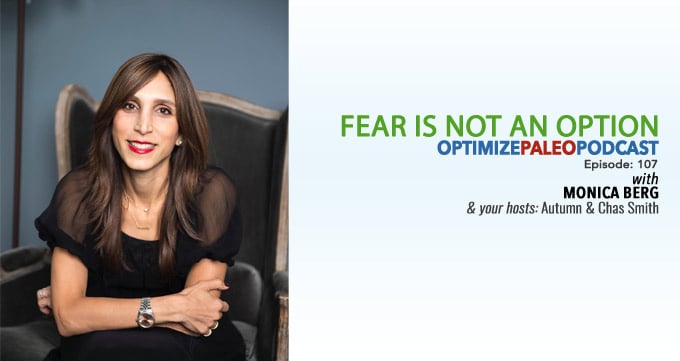 EP107: Fear is NOT an option with Monica Berg
Is FEAR holding you back from thriving?
IN THIS EPISODE:
Monica Berg is the author of Fear Is Not an Option and serves as Chief Communications Officer for Kabbalah Centre International. She lives in New York with her husband Michael and their children David, Joshua, Miriam, and Abigail. Authentic and fearless, she reminds us of our extraordinary potential and pushes us onward with compassion and understanding. While informed by her many years of kabbalistic study, Monica also draws heavily on her own personal life experiences.
She battled and overcame a debilitating eating disorder at a young age, and as a mother of four children, one of whom has special needs, she has become an outspoken advocate for him and others struggling to find their voice. Monica Berg, a self-professed Change Junkie, shares her combination of wisdom and real-life awareness with talks found compelling to a wide range of men and women at different stages in their lives. She leads people to not only see how they can change (change is the only constant in life) but inspires them to get excited about a lifestyle of change.
Here's what you'll learn:
The 3 types of fear
How to tell the difference between fear and intuition
A daily practice for strengthening your intuition
Why "bad luck" is often just fear
What fear steals from us
The difference between a fixed and growth mindset
The link between fear and health
Why what we eat affects fear
The steps we can take to eradicate fear
What I need to do to get over my fear of being alone
What trimtabs are and why they matter
Why fear is actually a GIFT
And MUCH more!
SHOW NOTES:
Thanks for listening!
Thanks so much for joining us this week. Have some feedback you'd like to share or a question you'd like to ask? Leave a note in the comment section below!
If you enjoyed this episode, please share it using the social media buttons you see in this post.
Also, we'd love it if you would leave an honest review for The Optimize Paleo Podcast on iTunes! Ratings and reviews are super helpful and greatly appreciated as it helps us expose this show to a wider audience and spread this information to more people who need to hear it. We read every review so we look forward to hearing from you!
And finally, don't forget to subscribe to the show on iTunes to get automatic updates…see you next time!
Click the button below to subscribe on iTunes: