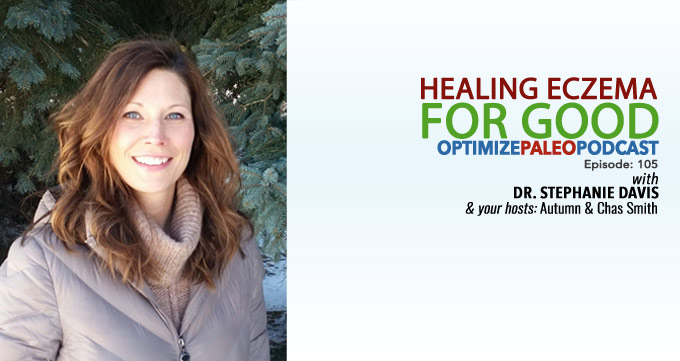 EP105: Healing Eczema for GOOD with Dr. Stephanie Davis
Do you Know the Root Cause of Your Eczema?
IN THIS EPISODE:
Dr. Stephanie Davis, DC, received her doctorate from Northwestern Health Sciences University. Prior to chiropractic school, she was a microbiology and biochemistry research scientist for several corporations and the University of Minnesota. She has extensive post-graduate training in Functional Medicine through the Institute for Functional Medicine, the Kalish Mentorship Program, the Hashimoto's Institute, and Ben Lynch's Seeking Health Educational Institute, in constant search for more tools to help patients achieve their health goals.
Dr. Davis is WONDERFUL and full of information that will change the way you view your skin condition forever. She's healed her own skin conditions and now she's ready to help heal YOURS.
So listen in and discover:
How to know if you have eczema
The root cause of eczema
The problems with topical treatments
The best 6 foods to eliminate for eczema remission
How to circumvent a flare up
The most common nutrient deficiencies associated with eczema
Her favorite eczema-healing supplements
The #1 trigger for eczema in her practice
The natural topical products she recommends for eczema
And much more!
SHOW NOTES:
Thanks for listening!
Thanks so much for joining us this week. Have some feedback you'd like to share or a question you'd like to ask? Leave a note in the comment section below!
If you enjoyed this episode, please share it using the social media buttons you see in this post.
Also, we'd love it if you would leave an honest review for The Optimize Paleo Podcast on iTunes! Ratings and reviews are super helpful and greatly appreciated as it helps us expose this show to a wider audience and spread this information to more people who need to hear it. We read every review so we look forward to hearing from you!
And finally, don't forget to subscribe to the show on iTunes to get automatic updates…see you next time!
Click the button below to subscribe on iTunes: