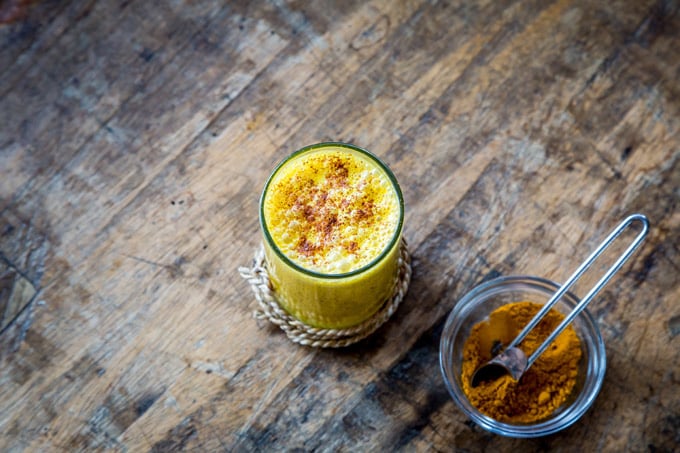 TURMERIC VS. IBUPROFEN?
TURMERIC VS. IBUPROFEN?
Are you one of the millions of Americans taking NSAIDS (non steroidal anti-inflammatory drugs) to alleviate your arthritis pain?
In fact, while many Americans pop NSAIDS like candy (I was one of them, no judgment), they have been shown to impede the healing process by reducing blood flow (and therefore nutrient delivery) to cartilage.
They've also been linked to anemia, DNA damage, hearing loss, cardiovascular risk, hypertension, influenza mortality, miscarriage and LEAKY GUT ( immune deregulation).
Fortunately, there is a natural (and more effective) alternative hiding in your cupboards.
A recent trial titled Efficacy and safety of Curcuma domestica extracts in patients with knee osteoarthritis revealed that turmeric (curcumin), is actually MORE effective for the treatment of osteoarthritic knee pain than ibuprofen.
It sounds too good to be true, right?
Fortunately, it's not.
Researchers tested the effects of either 2,000 mg of turmeric (4 divided doses) or 800 mg (2 divided doses) of ibuprofen daily.
Turmeric was found to be more effective for reducing pain while going up and down stairs.
It was also associated with fewer adverse events and participants who used turmeric reported greater satisfaction with the treatment overall.
But turmeric won't JUST relieve arthritic pain.
According to GreenMedInfo, turmeric's most beneficial curcuminoid, curcumin, has over 600 benefits for the treatment of over 500 conditions.
Additional trials have shown it to be as effective as a replacement for other pharmaceuticals including cholesterol medication (Lipitor), corticosteroids, antidepressants (Prozac, fluoxetine, Imipramine), aspirin, chemotherapy drugs (Oxaliplatin) and the diabetes drug, Metformin.
Turmeric has also been used in Ayurvedic Medicine safely and effectively for over 6,000 years.
So ditch the NSAIDS and get on the turmeric train already!
You'll not only avoid ibuprofen's side effects, you'll also reap its MANY side benefits.
If you're trying to treat a condition like osteoarthritis, please be sure that you use an organic turmeric (or curcumin) supplement and a dose similar to the one used in the trial (2,000 mg)
However, if you simply want to use turmeric preventatively to avoid the need for megadoses later, here are 4 ways to start!
1. Make a turmeric tea or try IGNITE
Steep fresh turmeric root in hot water for 20 minutes to create an inflammatory tea. You can also add lemon or ginger for a little flavor. You can also use my magic morning tonic recipe - IGNITE - here.
2. Try our Supergreens Powder
In our cereal-grass free greens powder, you'll get a daily dose of turmeric as well as 18 other organic superfoods. An ounce of prevention IS worth a pound of cure after all. It's incredibly refreshing and goes perfectly in water or a green shake.
3. Use fresh turmeric root in your green shake.
Simply add several slices of turmeric root to any shake recipe and enjoy!
4. Make Paleovalley Coconut Curry from our Paleo Slow Cooker Recipes cookbook:
Ingredients:
2 pounds boneless, skinless chicken breast
3 chopped carrots
1 sweet onion
2 minced garlic cloves
6 cups chicken broth (low sodium)
1 can full-fat coconut milk
1 juiced and zested lime
1 tsp chili paste
1 tsp curry powder
1 tsp turmeric
1 tsp cumin
Sea salt and ground pepper to taste
Preparation:
Cut chicken into one-inch pieces and place in a slow cooker
Add in rest of ingredients and mix thoroughly
Cover and cook on "high" for 4 hours or "low" for 6 hours.
Serve & enjoy!
So there you have it! Four ways to start utilizing the many amazing health benefits of turmeric today!