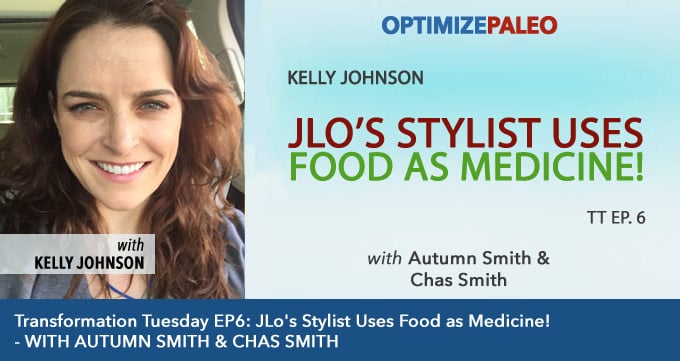 Transformation Tuesday EP6: JLo's Stylist Uses Food as Medicine!
Here's How Food Can Be Medicine!
IN THIS EPISODE:
Can you imagine if after meals it felt like food was trapped in your esophagus!?
And sometimes it was so uncomfortable that you had to vomit or visit the emergency room?
Well this is exactly what happened to one of my best friends, Kelly Johnson, as a result of a condition called eosinophilic esophagitis.
Kelly and I met on Jennifer Lopez's first world tour where she was working as JLo's stylist and I was working as her personal trainer under the guidance of Tracy Anderson. You might have soon her in Jlo's documentary.
And even though doctors we not really able to resolve her issue (and in fact, recommended she start taking steroids), after some diligent experimentation and a few dietary teaks Kelly is virtually flare-up free and feeling like a brand new women!
As a result of spending 7 months on tour with yours truly, Kelly got more than her fair share of "food is medicine" chatter. Even if she doubted the incredible power of dietary change then, she is a true blue believer now.
Thanks for listening!
Thanks so much for joining us this week. Have some feedback you'd like to share or a question you'd like to ask? Leave a note in the comment section below!
If you enjoyed this episode, please share it using the social media buttons you see in this post.
Also, we'd love it if you would leave an honest review for The Optimize Paleo Podcast on iTunes! Ratings and reviews are super helpful and greatly appreciated as it helps us expose this show to a wider audience and spread this information to more people who need to hear it. We read every review so we look forward to hearing from you!
And finally, don't forget to subscribe to the show on iTunes to get automatic updates…see you next time!
Click the button below to subscribe on iTunes: