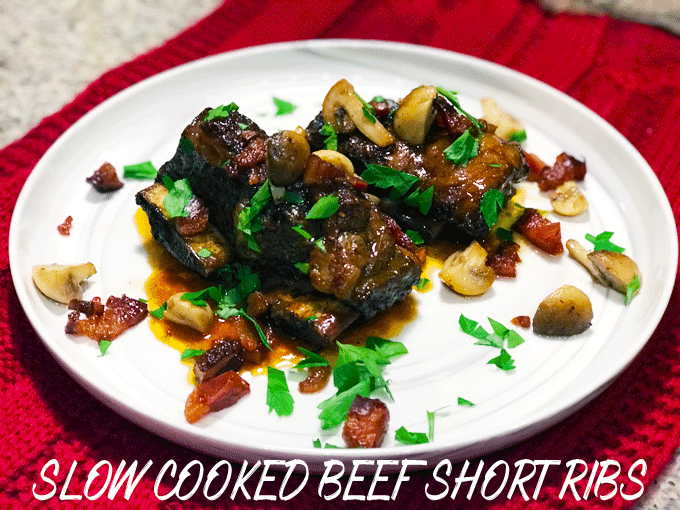 Slow Cooked Beef Short Ribs
The BEST Short Rib Recipe, Around!!
Slow Cooked Beef Short Ribs
Servings: 3-4
Cooking Time: 2 hrs 45 mins
Ingredients:
6-8 short ribs
2 Tbsp tomato paste
1 garlic bulb
2 cups of red wine
2 cups of beef (or chicken) broth
Ground pepper to taste
Sea salt to taste
Mushroom/Bacon Garnish
4 pieces of bacon, sliced into thick lardons
8oz of button or baby bella mushrooms, quartered
2 Tbsp Italian flat-leaf parsley, chopped
Equipment:
Roasting tray, aluminum foil
Directions:
Preheat oven to 350°F.
Let the short ribs come to room temperature (30 minutes or so) and slice them alongside the bone straight down to make separate ribs.
Season the short ribs with salt and pepper. Heat a roasting tray over, or large ovenproof sauté pan, on the stove over medium-high heat. Add avocado oil and sear the short ribs bone side up to start. You want to be sure to brown the ribs before going in the oven.
Cut the garlic bulb in half horizontally and place face down in the roasting tray with the short ribs. This will add amazing flavor. Next, add the tomato paste and stir. Cook for 2-3 minutes.
Add red wine and bring up to a boil then reduce down by half. Add beef broth until about an inch underneath the beef short ribs. Bring to a boil again, cover with aluminum foil and roast in the oven for 2.5 hours.
With 10 minutes or so left with the roast, begin making the garnish by adding bacon to a sauté pan over medium heat. Cook until browned then add the mushrooms and cook until tender. Set aside.
Remove the short ribs and plate. Add a generous serving of the mushroom/bacon garnish. Top with flat-leaf parsley and serve with any extra au jus in the roasting pan. ***I'd recommend also straining the remaining roasting pan juices through a sieve for some amazing flavor!
I know that this recipe takes a while, but most of it is simple pre-work and then you let the oven do all the heaving lifting for you.