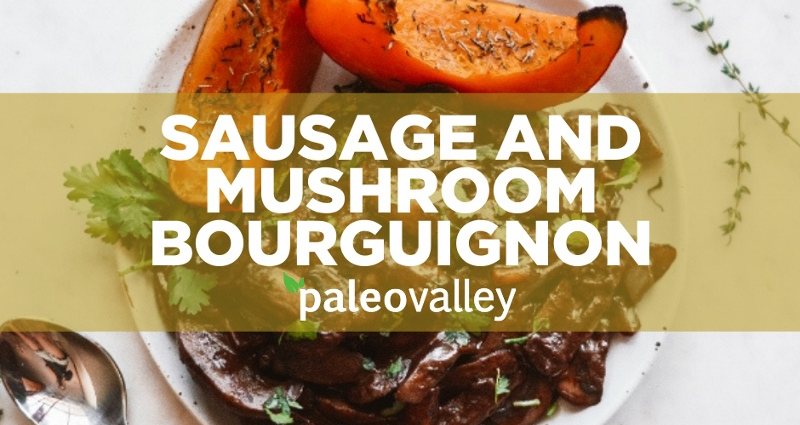 Sausage and Mushroom Bourguignon Recipe
As temperatures drop around the country, we've found ourselves craving a warm, yet hearty and rich French classic this winter.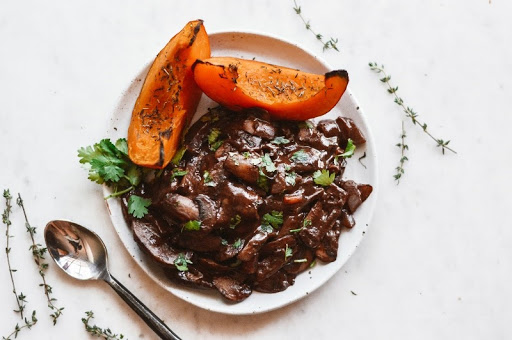 We thought we might hit a bit of a snag, not being able to use cheese, bread, or any of the other common French cuisine essentials but… alas, we found easy success with a traditional bourguignon recipe (this one even includes a wine-free version!).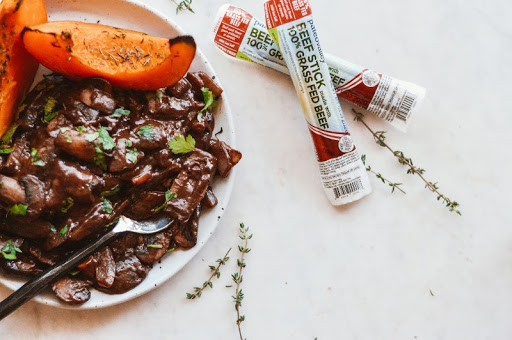 This recipe is traditionally made with red wine, so we've used a sulfite-free version here. However, it's perfectly acceptable to use beef broth, so we've made two versions for you: one with wine, one without.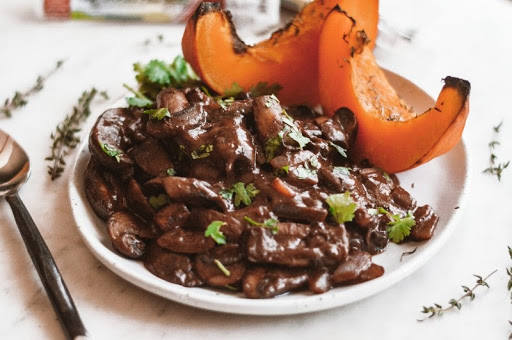 Our 100% Grass Fed Beef Sticks add a smoky depth to the carrots and fragrant broth. Complemented with a sweet side of acorn squash, it's a flavor profile you won't want to miss.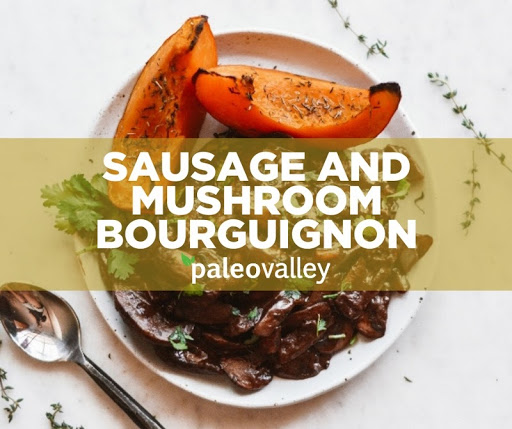 Sausage and Mushroom Bourguignon
Prep time: 10 minutes
Total time: 30 minutes
Serves: 2
Ingredients
2 Paleovalley Grass Fed Beef Sticks, thinly sliced into small rounds
½ medium onion, chopped
4 cloves garlic, finely chopped
10 oz sliced cremini mushrooms
¼ cup organic red wine (or beef broth for an alcohol-free version)
¾ cup chopped carrots
¾ tsp dried thyme (or 1 Tbsp fresh)
1 Tbsp coconut aminos
2 Tbsp tomato paste
½ cup beef broth
3 Tbsp olive oil
1 Tbsp arrowroot starch
½ acorn squash (optional) as a side, seeded and sliced into 2 large slices
1 tsp sea salt
Equipment
Baking sheet
Large saute pot
Directions
Preheat oven to 400ºF.
Rub acorn squash with 1 tablespoon olive oil and a dash of sea salt. Set on baking sheet and bake for 20-30 minutes while making the bourguignon, or until a fork easily pierces the slices.
In your large pot, warm 1 tablespoon of olive oil over low to medium heat. Add the sliced mushrooms and cook for 3 minutes. Transfer them, with juices, to a plate and set aside.
In the same pot over medium heat, add the remaining tablespoon of olive oil along with the onion, carrot, garlic, thyme, Paleovalley Beef Stick slices, and salt and cook for 5 minutes.
Add mushrooms back in, along with coconut aminos and 2 tablespoons of tomato paste. Stir everything together and cook for another 5 minutes.
Pour in the red wine (OR additional broth if subbing) and the beef broth, then bring to a simmer. Stir in 1 tablespoon arrowroot starch, then allow to cook for 10 minutes, until liquid has reduced by half.
Remove the acorn squash from the oven and serve warm alongside the bourguignon, garnished with fresh herbs of choice.
We subbed sausage in this recipe for our smoky, pre-cooked grass fed beef sticks. They not only make perfect on-the-go snacks, but also work great when you need a tasty weeknight dinner in a pinch.

>>> Click HERE to Try Paleovalley Beef Sticks RISK-FREE + Get up to 24% Off TODAY!