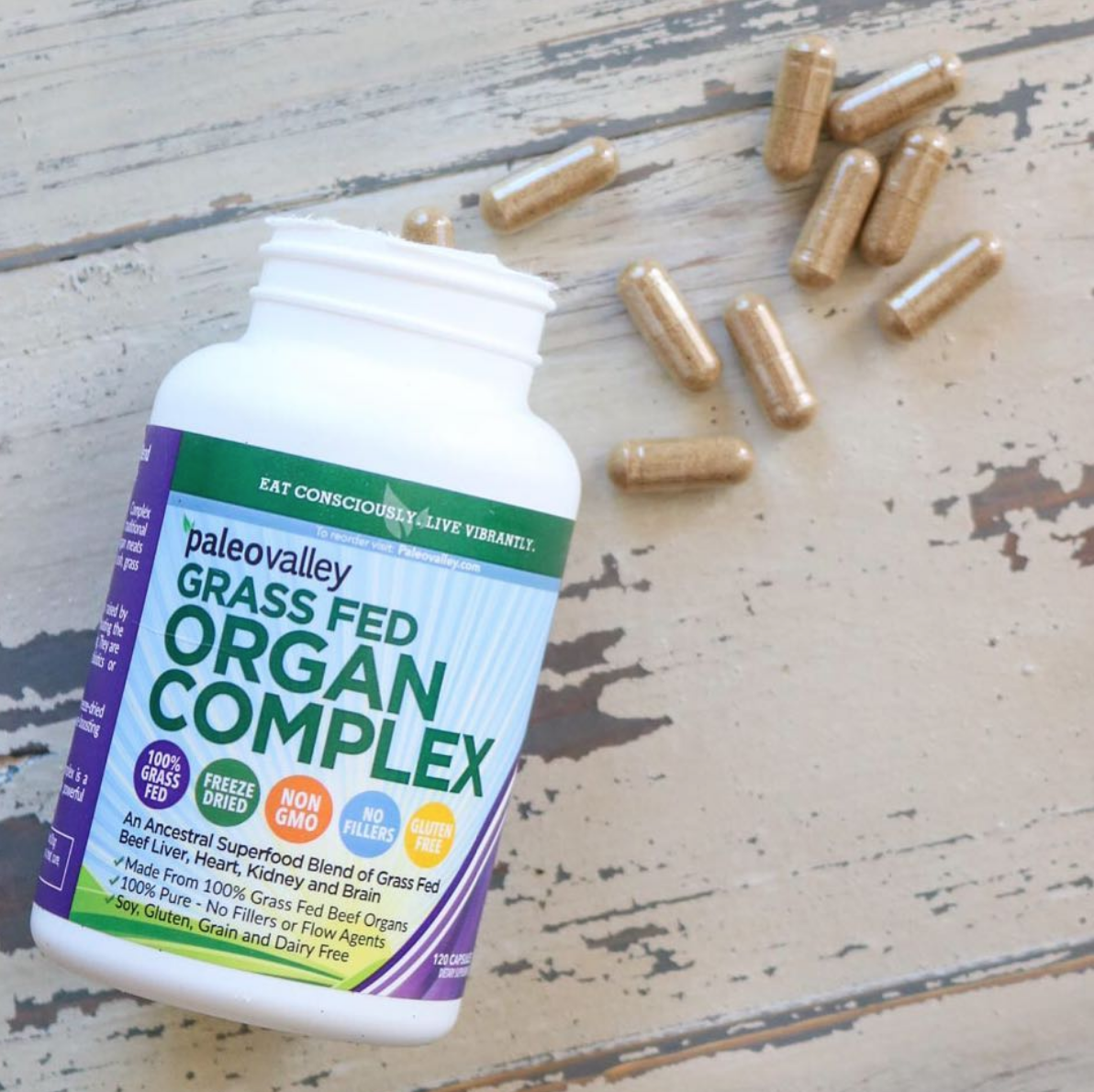 Everything you need to know about our Organ Complex!
If you've been a Paleovalley family member for a while now, you're familiar with the impressive benefits of organ meats. They are the MOST nutrient dense foods on the planet. They're also well known for their "anti-fatigue" factor. Yes, your dream just came true…
Natural vibrant energy alllllll day long!
But I know what you're thinking...they taste disgusting and are tricky to prepare, right? We agree. Which is exactly why we have gently frozen dried liver, brain, kidney and heart (all from grass-fed animals of course) and put them in capsules for you.
That way you get ALL the remarkable benefits without the hassle.
And because people have been raving about them (we've literally sold out twice already!) I wanted to address the most frequently asked questions about our Grass Fed Organ Complex in case you've staying up all night wondering about them… 😊
We hope you love them as much as we do!
What are the ingredients used in Grass Fed Organ Complex?
Liver Bovine 1800 MG
Heart Bovine 200 MG
Kidney Bovine 200 MG
Brain Bovine 200 MG
Other Ingredients: Gelatin Capsules
How much of each organ is in a week's serving?
You'll receive about 1.35 ounces of liver and 0.15 ounces of heart, brain and kidney in a week's time if you're taking the recommended 4 capsules daily. Experts recommend 2-3 servings of liver or organs each week and so if you don't eat other organs meats and want to take more, you could increase your daily dose.
What makes Grass Fed Organ Complex better than other similar products?
First off, we haven't found any other similar products. There are several "desiccated liver" products on the market, but ours is different for three main reasons:
1. It contains a wider array of organ meats while others consist of only liver. Each organ contains its own unique benefits and nutritional profile. For example, liver contains more vitamin A and B12 of ANY food and heart contains a potent antioxidant, CoQ10, known for its ability to support heart health. Since consuming organ meats is so rare in our culture we wanted to add a broad spectrum.
2. It is made with 100% grass fed and grass finished organs from pasture-raised animals of New Zealand. Others either do not specify (which usually means they are not 100% grass fed or source their organs from countries without the strict standards found in New Zealand). This is bad news for the consumer.
3. It is gently freeze dried, while most other products are spray dried at very high temperatures. Spray drying at such high temperatures can denature proteins and destroy nutrients. Freeze drying, on the other hand, preserves virtually all of the nutrients found in the organs. Why don't all companies use freeze drying? Because it is much more expensive than spray drying...simple as that. We do not cut corners. Keep in mind, we use our products also and want the most nutrient-rich, nondenatured ingredients possible for ourselves and our families.
Aren't organs bad for you?
This is one of the most damaging misunderstandings in the wellness space today. Yes, we have been told that organ meats are high in cholesterol and that we should avoid them. However, recent evidence has confirmed that cholesterol is NOT the heart-disease causing culprit is was once believed to be. It is actually incredibly health supportive.
Our ancestors consumed ample organs and were free of modern day diseases. In fact the absence of organ meats in our diets today is thought to be one reason 96% of Americans are nutrient deficient. Not only are properly sourced organ meats NOT bad for you, they're actually a simple way to dramatically improve your nutrient intake.
But doesn't the liver store toxins?
While you may have heard that the liver is a storage house for toxins, it is not true. Rather than store toxins, it converts them into substances the body can excrete and shuttles them away. It acts as more of a converter for toxins. However, it DOES store tons of nutrients - which is why, gram for gram, it is more nutrient dense than any other food.
What about Mad Cow Disease (BSE)?
The brain in our Grass Fed Organ Complex is made from grass fed and finished calves of New Zealand. There has never been a case of BSE (also known as "mad cow disease") in New Zealand.
New Zealand has protocols in place to ensure that BSE does not occur including active and passive surveillance of the animals.
BSE is primarily found in cows that have been fed a diet supplemented with mammalian protein. Our calves, being grass fed and grass finished, are never fed grains or animal byproducts.
The brain in our Grass Fed Organ Complex is also sourced from calves well under 3 years of age which is important because BSE only fully develops in older cows around 4 years of age.
How many bottles should I order?
Each bottle is a 30 day supply and we recommend taking advantage of our bulk discount pricing so you can save more today. If you have not been eating a nutrient-rich diet up until now, we suggest considering taking more than the suggested 4 capsule dose in order to get more nutrients in your body faster. Also, when you order 3 bottles or more you will receive FREE shipping and handling.
Do you offer free shipping?
Yes, on orders of 3 bottles or more you will receive 100% FREE shipping and handling.
When will I receive my order?
Your order will be shipped within one business day. Once shipped, orders take an average of 2-3 days to arrive.
Do you use any flow agents such as rice flour or magnesium stearate?
Absolutely not. We do not add any flow agents or fillers to our products whatsoever. You get the highest quality ingredients handled with the utmost care...nothing else.
I don't like the taste of organ meats...do these have any flavor?
No, there is no flavor whatsoever. That's the main reason we created our Grass Fed Organ Complex. As much as we wanted to love the taste of these nutrient-dense organ meats such as liver, we just couldn't get past the taste. They also won't cause burps or reflux.
What is the best way to take this product?
Simply take 4 capsules in the morning with water. Easy as that! We suggest the morning because the influx of nutrients (especially the wide spectrum of B vitamins) will give you an energy boost throughout the day.
What if the product doesn't work for me?
While Grass Fed Organ Complex doesn't make any claims that you will be superman or wonder woman overnight, it was created to "work". This is a product that contains real, whole food ingredients. It contains the same nutrients, vitamins, and proteins found in raw organ meats.
That being said, we don't want you to order anything that you aren't 100% happy with. We have a 60 Day, 100% money-back guarantee. If you aren't thrilled with your order just let us know and we'll refund you no questions asked. Over 99% of our customers love our products, so we're confident that you will too.
Hopefully you're ready to do yourself a favor and try our Grass Fed Organ Complex! People write in all the time about how much better they feel since they've been taking it. Take this awesome testimonial from Cindy for example…
"I began taking your Grass Fed Organ Complex a couple of months ago (just opened third bottle). I usually take 2 twice a day, sometimes only 2 in the morning. The FIRST time I took it, my energy increased. I thought this could not possibly be due to the organs, so I observed myself the next few days. Sure enough, it's the organs! WOW! I feel amazing (and I've already been eating a paleo-ish diet, for several years in fact (WAP but no grains, very limited dairy). Thank you for developing such a great product!"
So if you're ready to take your health to the next level, click this link and try it today! Like I mentioned before, we often sell out so don't miss the chance to try it while you can!:)