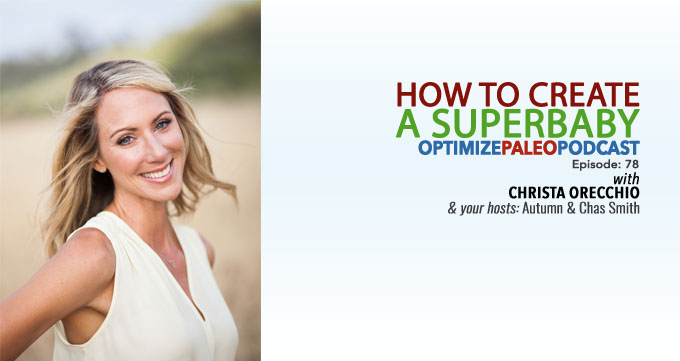 EP78: How To Create a Superbaby with Christa Orecchio
The Tell All...Baby Edition
IN THIS EPISODE:
Christa is a clinical and holistic nutritionist dedicated to helping individuals use food as medicine to heal from the root cause. She is the author of The Whole Journey Food as Medicine Cookbook, co-author of The Anti-Inflammatory Diet with Cheryl Tiegs, and co-author of the best-seller How to Conceive Naturally and Have a Healthy Pregnancy After 30. She also hosts three health and wellness TV shows.
Christa is truly delightful and this interview is PACKED with all the tips and tricks you'll need to get pregnant and create a super baby.
Here's what you'll learn:
Why getting pregnant after 30 isn't as difficult as it's made out to be
Why women older women actually have a lower risk of congenital malformation
What the ceiling is for a natural pregnancy
Why there are actually 5 trimesters
How to overcome common issues that make pregnancy difficult
How to increase progesterone levels naturally and reduce cellulite
An at-home test you can use to gauge your thyroid function
Foods that boost thyroid function
How your diet affects you (and your baby's) genetic code!
Why you want to begin preparing 3 months BEFORE pregnancy
Foods that create a super baby
One non-Paleo food that goes a pregnant body good
Foods you'll want to avoid during pregnancy
Foods that DADDY should be eating to build a healthy baby
Key supplements for healthy pregnancies and babies
A little known supplement that can supercharge your fertility
An adaptogen that can increase fertility in both males and females
The importance of a healthy PH for pregnancy and how to test it at home
The difference between folic acid and folate (and why it matters!)
The importance of methylation for a healthy pregnancy (and what exactly it is!)
A critical nutrient many of us are deficient in that could prevent autism
Christa's favorite prenatal
How to mitigate morning sickness
A simple trick for preventing postpartum depression and increasing milk supply
An alternative to the glucose tolerance test
And the one piece of advice Christa would give to parents and parents-to-be!
And much more!
SHOW NOTES:
Connect With Christa Orecchio: www.thewholejourney.com
Check out Her Book Here:
Thanks for listening!
Thanks so much for joining us this week. Have some feedback you'd like to share or a question you'd like to ask? Leave a note in the comment section below!
If you enjoyed this episode, please share it using the social media buttons you see in this post.
Also, we'd love it if you would leave an honest review for The Optimize Paleo Podcast on iTunes! Ratings and reviews are super helpful and greatly appreciated as it helps us expose this show to a wider audience and spread this information to more people who need to hear it. We read every review so we look forward to hearing from you!
And finally, don't forget to subscribe to the show on iTunes to get automatic updates…see you next time!
Click the button below to subscribe on iTunes: