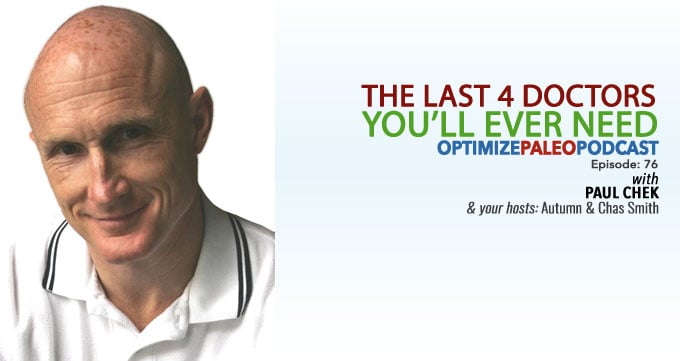 EP76: The Last 4 Doctors You'll Ever Need with Paul Chek
Are You Ready For Your Check-Up?
IN THIS EPISODE:
Paul Chek is the founder of the C.H.E.K (Corrective Holistic Exercise Kinesiology) Institute and an internationally-renowned expert in the fields of corrective and high-performance exercise kinesiology. For over twenty-five years, Paul's unique, holistic approach to treatment and education has changed the lives of countless people worldwide – many of his clients, his students, and their clients. By treating the body as a whole system and finding the root cause of a problem, Paul has been successful where traditional approaches have consistently failed.
What inspired him to get into holistic health:
The first book he ever read cover-to-cover
The problem with our current medical system
Why having a dream is CRITICAL for optimal health
The cheapest and most effective form of therapy that most people neglect today
What he did to NEVER miss a day of professional work in 30 years
Why the "no pain no gain" mentality is evidence of our cultural pubescence
A simple way to tell if you're in the stress response
Why not everyone should exercise
How to know if YOU will benefit from exercise
The difference between working out and working in
How much movement we all need each day
The last 4 doctors you will ever need
The main reasons people fail to see the results they're looking for
A simple tool that helps you tune into your body
How to eat for optimal health
The limitations of metabolic testing
Why he is often accused of being cocky
What he makes his critics do that keeps them quite
What happiness is
What happy people do
Why the average man can never be successful
Why our challenges are gifts
How you can save $6000 a year!
And much more!
SHOW NOTES:
Research/Educational - www.chekinstitute.com
Paul's Get Success Mastery Course: www.ppssuccess.com
Join Paul's Health Community here: www.chekconnect.com
Connect with Paul's Personal Blog here: www.paulcheksblog.com
Also, check out his books:
The Last Four Doctors You'll Ever Need
How to Eat, Move and be Healthy
Thanks for listening!
Thanks so much for joining us this week. Have some feedback you'd like to share or a question you'd like to ask? Leave a note in the comment section below!
If you enjoyed this episode, please share it using the social media buttons you see in this post.
Also, we'd love it if you would leave an honest review for The Optimize Paleo Podcast on iTunes! Ratings and reviews are super helpful and greatly appreciated as it helps us expose this show to a wider audience and spread this information to more people who need to hear it. We read every review so we look forward to hearing from you!
And finally, don't forget to subscribe to the show on iTunes to get automatic updates…see you next time!
Click the button below to subscribe on iTunes: