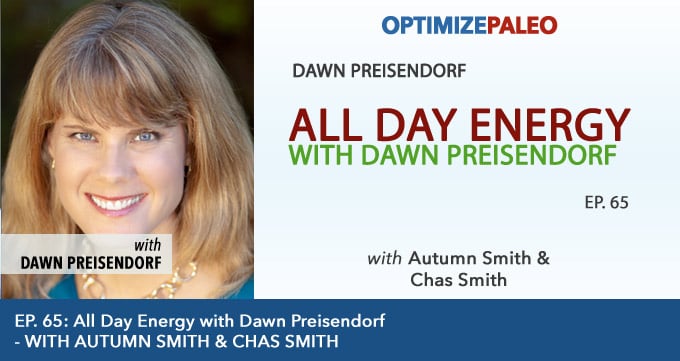 EP65: All Day Energy with Dawn Preisendorf
No More Energy Crashing!
IN THIS EPISODE:
Dawn Preisendorf (MA, NC, CHWC ) and she has a master's degree in nutrition and health education, and is a certified Wellness coach. She has also completed more than 200 additional hours of clinical training with Functional Medicine experts, and is a certified Hormone Cure Practitioner through Dr. Sara Gottfried frees women from fatigue, low energy and digestive distress. She has helped hundreds of women get to the root cause of their health problems, and reclaim vitality so they can live their lives full-out.
Here's what you'll learn:
Why she left a successful career to help people get healthy
How many people suffer from fatigue
What percentage of her clients increase their energy levels (this will shock you!)
Why fatigue is not a caffeine deficiency
Why most people are looking in the wrong places for energy
The 5 underlying causes of fatigue
Foods to eat for energy
4 Supplements that will help heal your gut
How to test for food sensitivities
How to tell if you're absorbing your nutrients properly
Why low triglyceride levels are not always a good thing
What you need to know if you have heartburn
A simple strategy for improving nutrient absorption
Gut infections that can cause fatigue
How to spot gut infections
How to treat them naturally
How hormonal imbalances cause fatigue
How to create hormonal harmony
Her favorite probiotic
The most effective digestive enzymes she's found
The herb you MUST take if you have a gut infection
The most often missed cause of fatigue
3 exercises you can do to improve energy levels
One important question to ask yourself before you attack your fatigue
The foods you should add and eliminate for vibrant energy
The best supplements for vibrant energy
And much more!
SHOW NOTES:
Grab Dawn's free e-book, Secrets to All-Day Energy here!
(It's 20 pages packed full of tips for naturally banishing fatigue and getting energized. Plus you'll get specific supplement recommendations and great recipes!)

Plus, get a $50 discount off her 14-Day Paleo Cleanse group program, beginning April 17th. (More info about this and discount code is also at: http://www.newdawnwellness.com/podcast.html)

L-glutamine by Pure Encapsulations
http://amzn.to/2e2BUFR

Thanks for listening!
Thanks so much for joining us this week. Have some feedback you'd like to share or a question you'd like to ask? Leave a note in the comment section below!
If you enjoyed this episode, please share it using the social media buttons you see in this post.
Also, we'd love it if you would leave an honest review for The Optimize Paleo Podcast on iTunes! Ratings and reviews are super helpful and greatly appreciated as it helps us expose this show to a wider audience and spread this information to more people who need to hear it. We read every review so we look forward to hearing from you!
And finally, don't forget to subscribe to the show on iTunes to get automatic updates…see you next time!
Click the button below to subscribe on iTunes: