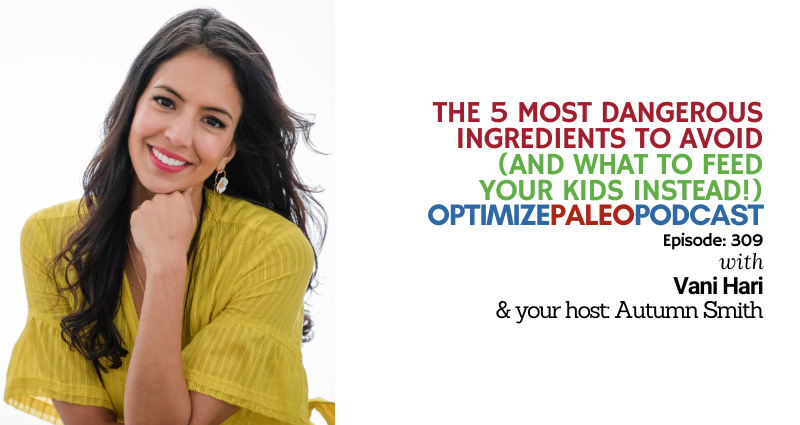 EP309: The 5 Most Dangerous Ingredients to Avoid (and what to feed your kids instead!) with Vani Hari
In the ever-evolving world of nutrition and food transparency, few have been more successful at peeling back the curtain on the food industry as Vani Hari, aka the "Food Babe."
Vani believes we deserve the right to know what's in our food and she's taken steps to convince food companies to make major, important changes to their products.
For example, she convinced Kraft to remove artificial food dyes from Mac & Cheese, Subway to remove all artificial flavors in their bread, and Starbucks to remove caramel color #4 from pumpkin spice lattes.
So if you want to learn about other insidious ingredients in our food supply and how to get kids to embrace healthy eating, tune into this week's podcast. Here's what you'll learn…
The most evil processed food company according to Vani
The problem with BHT (and why it's use)
The issues with titanium dioxide
The company that refuses to remove a carcinogen from their cereal
The top 10 ingredients to look out for our kids
The carcinogenic ingredient banned in Europe that you can find in Skittles
The simple way to make baked goods healthier
The ingredient she believes is causing the obesity epidemic
A root cause of picky eating
The problem with cottonseed oil
How to get kids excited about whole foods
How to get your kids to eat their veggies
Vani's 2 simple kids snack recipes
And so much more!
Vani was one of the early influences in my excitement around this topic so I hope you love this conversation as much as I did and check out her amazing cookbook with the link below!
Valuable Resources:
Paleovalley Grass Fed Beef Sticks
>>> Get the best chemical-free, on-the-go snack for your kids with Paleovalley's Grass Fed Beef Sticks HERE
Food Babe Family Recipe Book
>>> Get 12 Months of FREE Meal Plans when you order your cookbook TODAY!
Bio:
Vani Hari is a revolutionary food activist, a New York Times best-selling author, co-founder of the organic food brand Truvani, and was named one of the "Most Influential People on the Internet" by Time magazine. Hari started FoodBabe.com to spread information about what is really in the American food supply. She teaches people how to make the right purchasing decisions at the grocery store, how to live an organic lifestyle, and how to travel healthfully around the world. Visit her online at: foodbabe.com Her new cookbook, Food Babe Family will officially hit stores October 17, 2023.
Thanks for Listening!
Thanks so much for joining us this week. Have some feedback you'd like to share or a question you'd like to ask? Email us at [email protected]!
If you enjoyed this episode, please share it using the social media buttons you see in this post.
Also, we'd love it if you would leave an honest review for The Optimize Paleo Podcast on iTunes! Ratings and reviews are super helpful and greatly appreciated as it helps us expose this show to a wider audience and spread this information to more people who need to hear it. We read every review so we look forward to hearing from you!
And finally, don't forget to subscribe to the show on iTunes to get automatic updates…see you next time!
Click the button below to subscribe on iTunes: