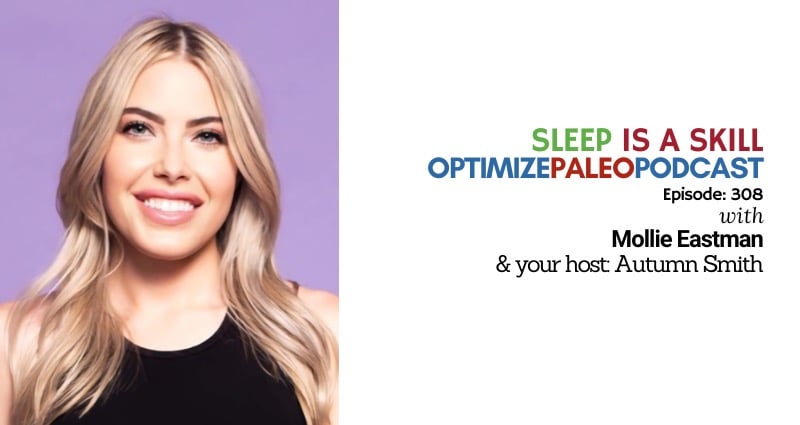 EP308: Sleep is a Skill with Mollie Eastman
Did you know inadequate sleep can cause you to consume over 350 extra calories the next day, insulin resistance in healthy individuals, and a 55% increased risk of obesity?
We talk a lot about the healing power of food, but not nearly enough about the fact that the quality of your sleep can make or break your health.
So if you're someone who struggles to get enough sleep or wants to improve your sleep skills, check out this week's podcast with sleep expert and host of The Sleep Is A Skill Podcast, Mollie Eastman. Here are some of my favorite takeaways….
When to eat for better sleep
A great sleep breakfast
Her favorite travel sleep biohack
How food affects your appetite
How changes sleep during menstrual cycle
How much sleep is enough?
Her favorite way to track sleep
3 food tips for better sleep
The common dietary mistake that wrecks sleep
Lifestyle tips for better sleep
Supplements for better sleep
Her daily sleep routine
The 3 best supplements for sleep
My favorite sleep-friendly night time beverage
I sincerely hope these tips help you sleep and feel better than ever.
Valuable Resources:
Mollie Eastman — Sleep is a Skill
>>> Click HERE to learn more about Mollie's work + Start optimizing your sleep TODAY!
The Optimized Bedroom: 18 Strategic Changes To Create The Perfect Sleep Environment
>>> Click HERE to download your FREE eBook!
Paleovalley Bone Broth Protein
>>> Click HERE to Improve your sleep naturally with Glycine from Paleovalley's Bone Broth Protein + SAVE up to 20%!
Bio:
Mollie Eastman is the creator of Sleep Is A Skill, and the host of The Sleep Is A Skill Podcast. Sleep Is A Skill is a company that optimizes people's sleep through a unique blend of technology, accountability, and behavioral change. After navigating insomnia while traveling internationally, she created what she couldn't find - a place to go to learn the skill set of sleep. With a background in behavioral change from The Nonverbal Group, she became fascinated with chronobiology and its practical application to sleep and our overall experience of life. Knowing the difference between a life with sleep and without, she's now dedicated her life to sharing the forgotten skill set of sleep. In the spirit of that goal, she has created the #2 sleep podcast, written a popular weekly sleep newsletter for over four years, partnered with luxury hotels & lifestyle brands, and has appeared on over 150 podcasts. --- more information here: [url=https://docs.google.com/document/d/1GZ2ganvGHg2ZWss1YSHt6ekSIGDOYg5DrHTfE8qFIYM/edit?usp=sharing]https://docs.google.com/document/d/1GZ2ganvGHg2ZWss1YSHt6ekSIGDOYg5DrHTfE8qFIYM/edit?usp=sharing[/url]
Thanks for Listening!
Thanks so much for joining us this week. Have some feedback you'd like to share or a question you'd like to ask? Email us at [email protected]!
If you enjoyed this episode, please share it using the social media buttons you see in this post.
Also, we'd love it if you would leave an honest review for The Optimize Paleo Podcast on iTunes! Ratings and reviews are super helpful and greatly appreciated as it helps us expose this show to a wider audience and spread this information to more people who need to hear it. We read every review so we look forward to hearing from you!
And finally, don't forget to subscribe to the show on iTunes to get automatic updates…see you next time!
Click the button below to subscribe on iTunes: