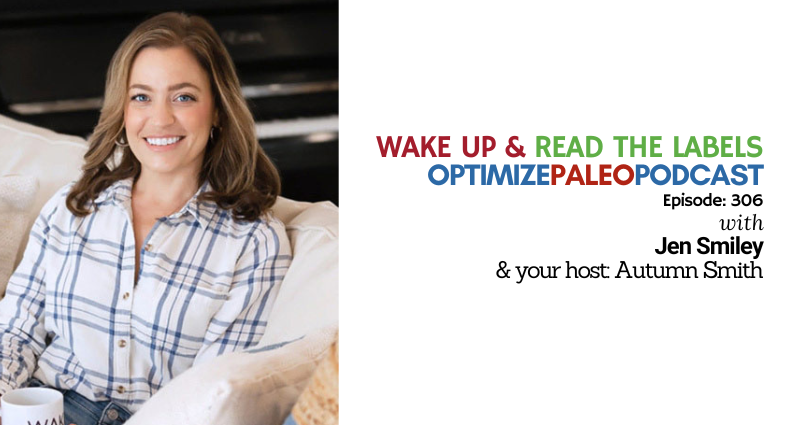 EP306: Wake Up and Read the Labels with Jen Smiley
In a startling revelation over 90% of Americans struggle to accurately read and interpret food labels.
Understanding what goes into our bodies is the cornerstone of a healthy lifestyle.
And food labels are more than just a list; they're a roadmap to better health, revealing the nutrients, ingredients, and potential allergens in our food that can heal or harm us.
By not comprehending these labels, we risk exposing our bodies to harmful additives, excessive sugars, and unhealthy fats that can derail our health goals.
Which is why in this week's podcast with Jen Smiley, the founder and food expert of Wake Up and Read the Labels, we take a deep dive into why and (more importantly) how to read food labels. Here are some of the fun facts you'll learn…
The top 3 ingredients to avoid in processed foods
The most surprising *healthy* ingredients you may want to avoid
The oils that you'll want to avoid
The problem with natural flavors (and why some may be ok!)
Why you often see vitamins on processed food labels
The vegan food you'll want to avoid on labels
Why artificial flavors can be problematic
Her least and most favorite bread brands
How citric acid is made
Her favorite clean brands
Her go-to breakfast
Her favorite clean condiments and pasta
Our favorite morning drinks
How to get kids to embrace clean foods
And so much more!
Becoming a label-savvy consumer is imperative for vibrant health, so please tune in and share this important conversation with everyone you love.

Valuable Resources:
Paleovalley Beef Sticks
>>> Try Paleovalley's 100% Grass Fed, Preservative and Chemical Free Beef Sticks HERE!

Jen Smiley - Clean Eating Academy
>>> Learn how to transform your relationship with food + focus on the things that will truly make a difference HERE!
Bio:
Jen Smiley suffered from asthma, stubborn weight, and inflammation for most of her life. Specialists kept testing and prescribing medications with no real answer as to why this is happening. Nothing changed until Jen decided to read the back of a seemingly healthy food product and noticed she was consuming ingredients she couldn't even pronounce. This sent her on a Wake UP! Mission to find foods made with real ingredients she could recognize and pronounce. After years of research, she found every clean swap making her menu expand instead of the usual restriction and her health took a complete turn for the better. She started coaching family and friends – all of which saw better bloodwork results, physical and mental changes and word of mouth spread creating Jen to be a food coach.
In 2019, Jen launched Wake Up and Read The Labels, a company dedicated to helping consumers understand what's actually inside of their food and revolutionize their grocery shopping. But it didn't stop there - Jen launched an immersive online course, Clean Eating Academy, that includes recipes, product swaps, dining out tips, makeup, supplement and skincare that is made with real ingredients embodying a true anti-inflammatory way of life that can help people feel their best.
Thanks for Listening!
Thanks so much for joining us this week. Have some feedback you'd like to share or a question you'd like to ask? Email us at [email protected]!
If you enjoyed this episode, please share it using the social media buttons you see in this post.
Also, we'd love it if you would leave an honest review for The Optimize Paleo Podcast on iTunes! Ratings and reviews are super helpful and greatly appreciated as it helps us expose this show to a wider audience and spread this information to more people who need to hear it. We read every review so we look forward to hearing from you!
And finally, don't forget to subscribe to the show on iTunes to get automatic updates…see you next time!
Click the button below to subscribe on iTunes: