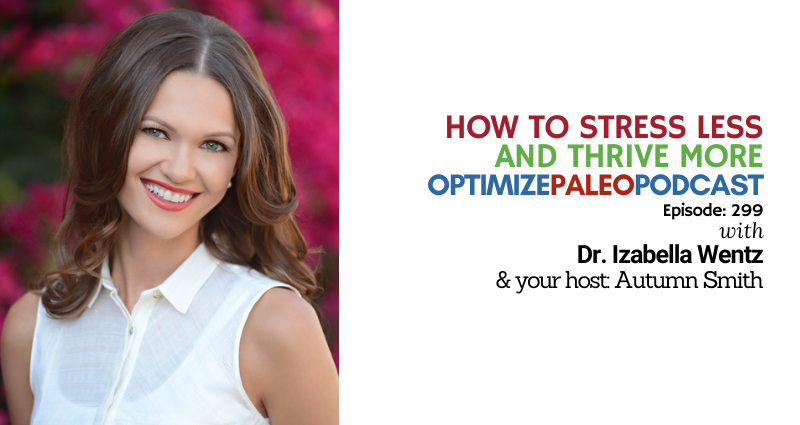 EP299: How to Stress Less and Thrive More with Dr. Izabella Wentz
According to the U.S. Center for Disease Control and Prevention stress is a leading cause of illness, accounting for about two thirds of all doctors visits and 75% of illnesses today.
What that means is even if you eat a healthy diet and exercise daily, unaddressed stress could be the reason you're still sick and tired.
Annnnd if you've been alive on planet Earth in the last 3 years, it's likely that your stress levels are higher than ever which is why I am thrilled to share this week's podcast with bestselling author and friend, Dr. Izabella Wentz, about her new book The Adrenal Transformation Protocol: A 4-Week Plan to Release Stress Symptoms and Go from Surviving to Thriving.
We talk all about symptoms of stress, how to eat to reduce stress, the best supplements for stress and how to cultivate a less-stress lifestyle. Here are some other fascinating takeaways you'll learn about…
How stress affects our health
Signs your body is overstressed
Tests you can use to determine how stress is affecting you
Signs of adrenal dysfunction in kids
A simple dietary trick for reducing stress
Traditional diagnosis that may be a result of adrenal issues
Why most mainstream practitioners don't diagnose adrenal issues
A simple daily practice for making your body feel safe
Fasting and stress
A simple adrenal cocktail recipes
The link between vegan diets and Hashimoto's
The surprising food for healing Hashimoto's
Supplements for brain fog and depression
Two common beverages that may exacerbate adrenal dysfunction
The best supplements for improving adrenal function
Lifestyle tips for reducing stress
And so much more!
Please share this podcast far and wide given that the topic can help pretty much everyone.
Valuable Resources:
Adrenal Transformation Protocol by Dr. Izabella Wentz
>>> Get your 4-Week Plan to Release Stress Symptoms & Go from Surviving to Thriving HERE!
Paleovalley Essential C Complex
>>> Support your Health with the Most Powerful, Natural Vitamin C Product on the Planet + Save up to 20% HERE!
Bio:
Izabella Wentz, PharmD, FASCP, is an internationally acclaimed thyroid specialist and a licensed pharmacist who has dedicated her career to addressing the root causes of autoimmune thyroid disease after being diagnosed with Hashimoto's thyroiditis in 2009. She is the author of three books on Hashimoto's: Hashimoto's Thyroiditis Lifestyle Interventions for Finding and Treating the Root Cause, Hashimoto's Food Pharmacology, and Hashimoto's Protocol, which became a #1 New York Times bestseller. Dr. Wentz currently lives in Texas with her husband, Michael, and their son, Dimitry.
Thanks for Listening!
Thanks so much for joining us this week. Have some feedback you'd like to share or a question you'd like to ask? Email us at [email protected]!
If you enjoyed this episode, please share it using the social media buttons you see in this post.
Also, we'd love it if you would leave an honest review for The Optimize Paleo Podcast on iTunes! Ratings and reviews are super helpful and greatly appreciated as it helps us expose this show to a wider audience and spread this information to more people who need to hear it. We read every review so we look forward to hearing from you!
And finally, don't forget to subscribe to the show on iTunes to get automatic updates…see you next time!
Click the button below to subscribe on iTunes: