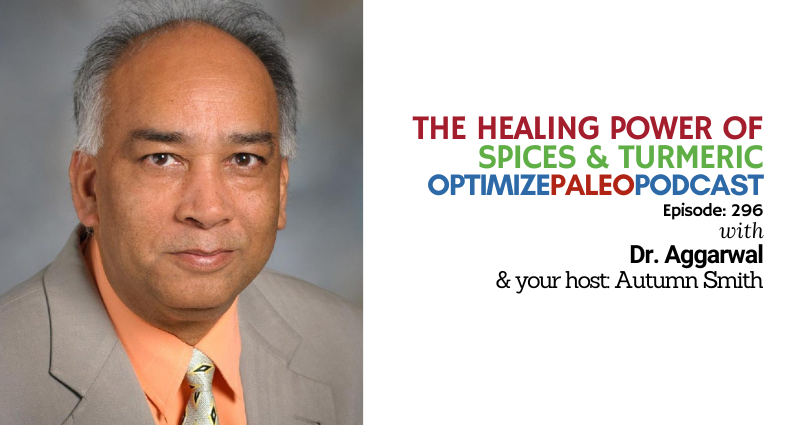 EP296: The Healing Power of Spices and Turmeric with Dr. Aggarwal
Did you know that certain spices, particularly turmeric, have demonstrated the ability to turn off inflammation and positively impact gene expression?
It sounds crazy, but spices are one of our most potent and underrated medicines.
Which is why in today's podcast with biochemist, Dr. Bharat Aggarwal, a former professor at University of Texas MD Anderson Cancer Center and expert on cytokines, the role of inflammation in cancer, and the anti-cancer effects of spices and herbs, we take a deep dive into exactly why turmeric and other spices are so powerful.
And also why most doctors today are not talking about them.
Here are some of the fascinating highlights from our conversation:
Two uses of turmeric for children
Why the FDA denied his patent
The viruses turmeric can kill
The toxic dose of turmeric
The truth about turmeric and its bioavailability
The only downside to turmeric
How turmeric turns off inflammation
How to determine how much turmeric you need
The difference between curcumin and turmeric
How turmeric compares to anti-inflammatory drugs
The brain benefits of turmeric
Why one of his papers was retracted
Other spices and their benefits
And so much more!
Please share this podcast with those you love and stay healthy, friends!
Valuable Resources:
Paleovalley Superfood Golden Milk
>>> Experience the soothing benefits of Turmeric + Ginger & Cinnamon with Paleovalley's NEW Superfood Golden Milk HERE!
Paleovalley Turmeric Complex
>>> Support Healthy Joints + Brain Health with Paleovalley's Turmeric Complex HERE!
Dr. Bharat Aggarwal, Ph.D.
>>> Learn More About Dr. Aggarwal's Research HERE!
NutriSense - Continuous Glucose Monitoring
>>> Learn More About NutriSense + Claim Your Exclusive Discount HERE!
Use Discount Code: OPTIMIZE at Checkout for $30 OFF

Bio:
Dr. Aggarwal is currently a Founding Director of the Inflammation Research Center in San Diego, California. He is also currently serving on the Advisory Board of several Nutraceutical companies. Until December 31st, 2015, Dr. Aggarwal was a Ransom Horne Distinguished Professor of Experimental Therapeutics, Cancer Research, Cancer Medicine, Biochemistry and Immunology; and Chief of the Cytokine Research Section, in the Department of Experimental Therapeutics at the University of Texas M. D. Anderson Cancer Center, Houston, Texas. He also served as a member of the University of Texas Graduate School of Biomedical Sciences, Houston, and as an Adjunct Professor at Albert B. Alkek Institute of Biosciences and Technology, Texas A&M University, Houston, Texas.

In 1989, Dr. Aggarwal was recruited as a Professor of Medicine and of Clinical Immunology & Biological Therapy, Chief of the Cytokine Research section at the University of Texas M. D. Anderson Cancer Center. Since then Dr. Aggarwal has been investigating the "Role of Inflammatory Pathways Mediated through TNF, NF-kappaB, STAT3, and CXCR4 for the Prevention and Therapy of Cancer, Osteoporosis and other Chronic Diseases". While searching for novel and safe anti-inflammatory agents, his group identified more than fifty novel compounds from mother nature including spices, dietary agents and from Traditional Medicine that interrupt these cell-signaling pathways. These agents have been tested in various animal models and some of them are in Clinical Trials. He has published over 700 publications in peer-reviewed international journals (including Science, Nature, Cancer Cell, PNAS, Journal of Experimental Medicine, Blood, Journal of Bioogical Chenistry, Cancer Research, Journal of Immunology), invited reviews and book chapters.

Dr. Aggarwal is inventor/co-inventor on over 33 patents. He has been listed as one of the most highly cited scientist by the Institute of Scientific Information in the World. His publications exhibit high citations with over twenty publications exceeding 1000. His overall citation till now is 128,210 with an H-index of 186. Dr. Aggarwal has been listed among top 100 most highly influential biomedical researchers in the world. He has authored a book "Healing Spices" published by Sterling Inc, which is already a Best-Seller.


Thanks for Listening!
Thanks so much for joining us this week. Have some feedback you'd like to share or a question you'd like to ask? Email us at [email protected]!
If you enjoyed this episode, please share it using the social media buttons you see in this post.
Also, we'd love it if you would leave an honest review for The Optimize Paleo Podcast on iTunes! Ratings and reviews are super helpful and greatly appreciated as it helps us expose this show to a wider audience and spread this information to more people who need to hear it. We read every review so we look forward to hearing from you!
And finally, don't forget to subscribe to the show on iTunes to get automatic updates…see you next time!
Click the button below to subscribe on iTunes: