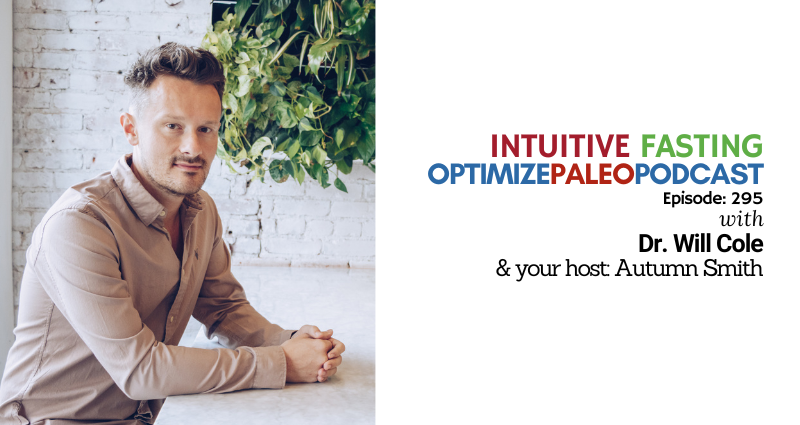 EP295: Intuitive Fasting with Dr. Will Cole
This week's podcast, with author and top 50 functional medicine doctor, Dr. Will Cole, is all about INTUITIVE FASTING.
While it may seem counterintuitive, intuitive fasting is a powerful practice that can help you access your intuition and find a fasting rhythm that honors your health and changing circumstances.
It allows you to step into the driver's seat of your health, and it's a gentle, gradual approach that begins with simple overnight fasts.
I have been using this practice for years, but never knew quite how to articulate the concept until I read his book.
Dr. Cole is brilliant and I sincerely hope this conversation is as helpful and powerful for you - as it has been for me.
Here's what we chat about…
Why some people were triggered by his book
What intuitive fasting is
How fasting helps us access our intuition
The benefits of fasting
His favorite fasts for improving metabolic health
The difference between caloric restriction and fasting
An intuitive fasting regimen for beginners
Who should not fast
How to fast with your cycle
A good time to increase carbs during your cycle
Fasting-approved drinks and tea
What to drink for cravings during a fast
Supplements to use during fasting
How to avoid losing muscle while fasting

Enjoy!
Valuable Resources:

Paleovalley Apple Cider Vinegar Complex
>>> Click HERE to Support Healthy Blood Sugar Levels 100% Risk-Free TODAY!

Intuitive Fasting by Dr. Will Cole
>>> Discover the Flexible 4-week Intermittent Fasting Plan to Recharge Your Metabolism HERE!
NutriSense - Continuous Glucose Monitoring
>>> Learn More About NutriSense + Claim Your Exclusive Discount HERE!
Use Discount Code: OPTIMIZE at Checkout for $30 OFF

Bio:
Dr. Will Cole is a leading functional medicine expert who consults people around the world via webcam and locally in Pittsburgh. Named one of the top 50 functional-medicine and integrative doctors in the nation, Dr.Cole specializes in clinically investigating underlying factors of chronic disease and customizing a functional medicine approach for thyroid issues, autoimmune conditions, hormonal imbalances, digestive disorders, and brain problems.
He is the bestselling author of Ketotarian, The Inflammation Spectrum, and the New York Times Bestseller Intuitive Fasting in which he shows how to use the powerful benefits of flexible intermittent fasting to gain metabolic flexibility and find food peace.
Dr. Cole is the host of the new podcast The Art of Being Well, and has cohosted the popular podcasts goopfellas podcast and Keto Talk.


Thanks for Listening!
Thanks so much for joining us this week. Have some feedback you'd like to share or a question you'd like to ask? Email us at [email protected]!
If you enjoyed this episode, please share it using the social media buttons you see in this post.
Also, we'd love it if you would leave an honest review for The Optimize Paleo Podcast on iTunes! Ratings and reviews are super helpful and greatly appreciated as it helps us expose this show to a wider audience and spread this information to more people who need to hear it. We read every review so we look forward to hearing from you!
And finally, don't forget to subscribe to the show on iTunes to get automatic updates…see you next time!
Click the button below to subscribe on iTunes: