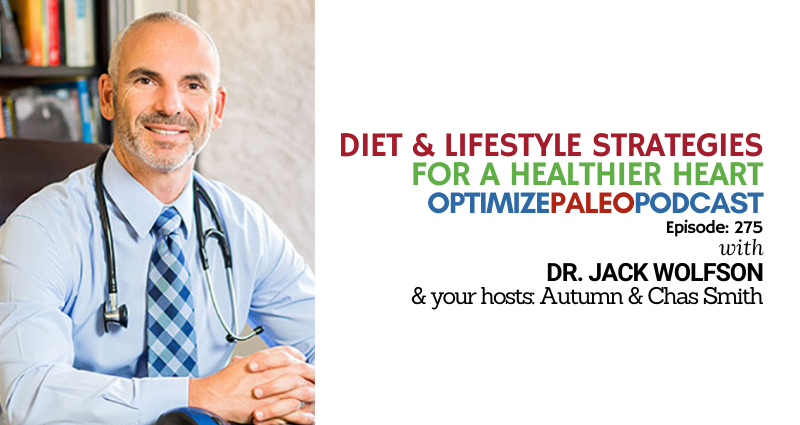 EP275: Diet & Lifestyle Strategies for a Healthier Heart with Dr. Jack Wolfson
According to the CDC, one American dies every 36 seconds from heart disease.
And though many Americans believe avoiding saturated fat will reduce heart disease risk, most people don't know that recent research has revealed the paleo diet can reduce heart disease risk by…
Improving glucose control
Reducing waist circumference
Increasing weight loss
Improving cholesterol levels
Reducing calorie intake
Improving blood pressure
So if you're ready to learn about the recent research and how to eat and live for a healthier heart check out today's podcast with author, board-certified cardiologist and Fellow of the American College of Cardiology, Dr. Jack Wolfson. Here are some of the highlights…
Is coffee beneficial for heart health?
The best diet for heart health
The link between leaky gut & heart health
The #1 strategy for heart health
The best foods for heart health
The worst foods for heart health
Are veggie oils harming your heart?
Can french fries be heart healthy?
Carb cycling for heart health?
Is the carnivore diet heart healthy?
Is the vegan diet heart healthy?
Fasting and heart health
Why a vegan diet is dangerous for kids
Lifestyle changes for a healthier heart
Heart disease is still America's #1 killer despite decades of "heart-healthy" diet recommendations, so please share this important podcast far and wide! And let me know your #1 takeaway in the comments below.
Valuable Resources:

The Paleo Cardiologist by Jack Wolfson
>>> Get a FREE copy of the book + Discover the natural way to heart health HERE!

Paleovalley Turmeric Complex
>>> Support a healthy inflammation response with Paleovalley Turmeric Complex HERE!
Bio:
Dr. Jack Wolfson is a board-certified cardiologist and a fellow of the American College of Cardiology. He has emerged as one of the world's leading holistic natural cardiologists and was a Natural Choice Award Winner in the Holistic MD category from Natural Awakenings Magazine. His ideas have been featured by NBC and CNN and covered in publications like the USA Today and The Wall Street Journal.

Prior to opening Wolfson Integrative Cardiology, Dr. Jack was Chairman of the Department of Medicine and Director of Cardiac Rehabilitation at Paradise Valley Hospital in Arizona. He was also a partner in Arizona's largest cardiology practice.

As a trusted leader in heart health and natural heart health, Dr. Jack has taught more than 10,000 physicians his natural heart health best practices. His book, The Paleo Cardiologist: The Natural Way to Heart Health, was an Amazon # 1 bestseller. He is an in-demand lecturer about natural healthy living without Big Pharma pills and invasive procedures.
Thanks for Listening!
Thanks so much for joining us this week. Have some feedback you'd like to share or a question you'd like to ask? Email us at [email protected]!
If you enjoyed this episode, please share it using the social media buttons you see in this post.
Also, we'd love it if you would leave an honest review for The Optimize Paleo Podcast on iTunes! Ratings and reviews are super helpful and greatly appreciated as it helps us expose this show to a wider audience and spread this information to more people who need to hear it. We read every review so we look forward to hearing from you!
And finally, don't forget to subscribe to the show on iTunes to get automatic updates…see you next time!
Click the button below to subscribe on iTunes: