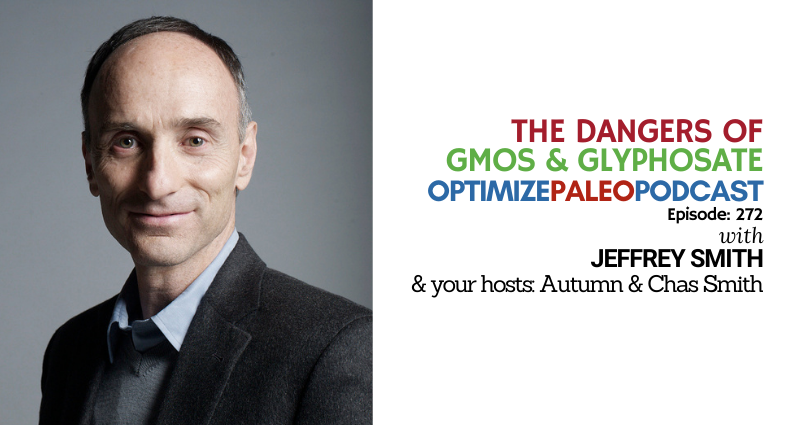 EP272: The Dangers of GMOs & Glyphosate with Jeffrey Smith
A 2019 survey of over 3,000 participants noted considerable improvements in the following conditions by avoiding genetically modified organisms (GMOs)...
Digestive issues (85.2%)
Fatigue (60.4%)
Overweight or obesity (54.6%)
Brain fog (51.7%)
Food allergies/sensitivities (50.2%)
Mood issues (51.1%)
Memory (48.1%)
Joint pain (47.5%)
Gluten sensitivities (42.2%)
Insomnia (33.2%)
Skin conditions 30.9%
Hormonal problems (30.4%)
Musculoskeletal pain (25.2%)
Autoimmune disease (21.4%)
Eczema (20.8%)
Cardiovascular problems (high blood pressure) 19.8%
And while this survey was conducted in a group that may be more sensitive to GMOs, I think it's important to acknowledge that GMOs do have health and environmental risks.
According to Jeffrey Smith, GMO advocate and this week's podcast guest, novel developments in genetic engineering may possibly contribute to future pandemics.
Listen in to learn why GMOs are dangerous, how to identify them, how to get involved in regulating their use and so much more! Here are some highlights from our important discussion…
Why GMOs are dangerous
The difference between organic and non-GMO
4 "healthy" foods that have high levels of glyphosate
The children's cereals with high levels of glyphosate
How GMO companies control research
How GMOs affect digestive health and mental health
Why Roundup is even more dangerous than people think
How GMO research is rigged
What is gene editing and why it's dangerous
How and why GMOs could contribute to future pandemics
How you can stop gene editing
How to avoid GMOs
How to detox from glyphosate
What to know to avoid GMOs when you eat at restaurants
New GMO foods to watch out for
And so much more!
I sincerely hope you love this podcast as much as I did and please share with everyone you think it may benefit.


Valuable Resources:

Protect Nature Now

>>> Learn More About Jeffrey & Safeguarding Biological Evolution from GMOs HERE!


Genetically Modified Microbes White Paper

>>> Access the Research on Technological & Legislative Challenges & National Security Implications HERE!


Paleovalley Essential C

>>> Upgrade your conventional GMO-derived (ascorbic acid) vitamin C supplement and try Paleovalley's Essential C HERE!
Bio:
As leading spokesperson on GMO health dangers, Jeffrey Smith authored 2 global bestsellers, directed 5 films, delivered 1000 lectures and 1000 interviews in 45 countries, trained 1500 speakers and organized over 10,000 grassroots advocates. He is now sounding the alarm about the serious, even irreversible hazards from new genetic engineering techniques, which can lead to health and environmental catastrophes. Jeffrey leads the global Protect Nature Now coalition, urging governments to stop the release of all genetically engineered microbes.
Thanks for Listening!
Thanks so much for joining us this week. Have some feedback you'd like to share or a question you'd like to ask? Email us at [email protected]!
If you enjoyed this episode, please share it using the social media buttons you see in this post.
Also, we'd love it if you would leave an honest review for The Optimize Paleo Podcast on iTunes! Ratings and reviews are super helpful and greatly appreciated as it helps us expose this show to a wider audience and spread this information to more people who need to hear it. We read every review so we look forward to hearing from you!
And finally, don't forget to subscribe to the show on iTunes to get automatic updates…see you next time!
Click the button below to subscribe on iTunes: