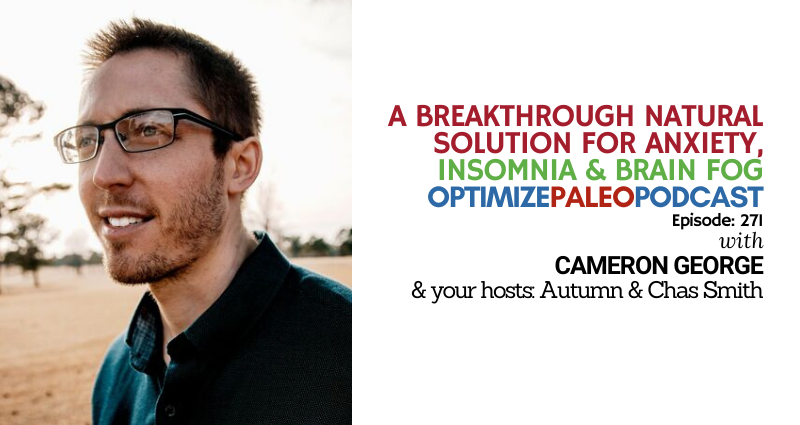 EP271: A Breakthrough Natural Solution for Anxiety, Insomnia & Brain Fog with Cameron George
Several studies have shown a spike in anxiety, depression, and insomnia within the last year.
In fact, people are 3x more likely to have anxiety or depressive disorders (vs. 2019) and insomnia rates are up 37%.
And while many people turn to alcohol, drugs, or benzos to calm down, there's an evidence-based, natural solution that comes with side benefits rather than scary side effects.
That solution is Tru Kava.
I learned about Tru Kava in March of last year, and have been using it to help me chill out and get more deep sleep ever since!
It works as an alcohol replacement and sleep tonic, AND it can also improve mental clarity.
Please note: if you search "kava" in google you will most likely find that kava causes liver issues, but please know that the kava that caused liver issues was made by a pharmaceutical company and is NOT the same as Tru Kava or the kava that has been used and revered for over 3000 years in places like Vanuatu.
It makes me so sad to think that people will miss out on the incredible benefits of this powerful plant because of this misunderstanding!
Tune in to this week's podcast to learn all about the benefits of kava, the nuances in its production, and how to use it for best results with the founder of Tru Kava, Cameron George. Cameron's story of transformation made my hair stand on end and I hope you love this podcast as much as I did. Here are some of the highlights….
A morning tonic for better brain function
The limitations (and dangers) of common medications
The benefits of kava
The difference between kava and alcohol
The difference between kava and benzos
The mechanisms by which kava reduces anxiety
Reverse tolerance (and why it's a good thing!)
How kava helps you chill out and sleep better
How kava improves antioxidant production
How kava blocks brain toxicity
Why (and how) kava can reduce pain
How kava reduces appetite and improves fat burning
Which forms of kava are safe
How to take kava for best results
Is kava safe for kids?
Can kava help with ADHD?
And so much more
This is one of my favorite products EVER so please tag anyone you know and love who might benefit from this powerful information in the comments below.
Valuable Resources:
Tru Kava
>>> Elevate Your Mind with Full Spectrum Kava + SAVE up to 20% HERE!
Paleovalley NeuroEffect
>>> Relieve stress with 8 superfood mushrooms in NeuroEffect + SAVE up to 20% Today!
Bio:
Cameron George is a researcher, writer, entrepreneur, and the founder of TRU KAVA, a company that is striving to set the industry standard for quality, safety, and education around kava within the mass market. TRU KAVA is focused on developing scalable user-friendly products that deliver the full therapeutic action of the traditional kava drink, which is the only form that has been highly prized in south pacific islands for over 3000 years.

Since discovering the amazing effects of traditional Kava during his own chronic illness, Cameron spent many years investigating every aspect of Kava and has collaborated with many of the most prominent experts in the world within the fields of Kava research and historical Kava use. The goal of this project is to provide the safest and most effective Kava products on the market, as well as educate the public on the complex story surrounding Kava, explaining some of the myths, the massive variation of quality on the market, and the many amazing benefits that Kava can offer to the modern world when it's used correctly in its traditional form. It is an initiative to educate on the clear distinction that the scientific literature and historical accounts have made between Safe and questionable Kava products, as well as to advocate for the use of only lab-tested safe Kava varieties.
Thanks for Listening!
Thanks so much for joining us this week. Have some feedback you'd like to share or a question you'd like to ask? Email us at [email protected]!
If you enjoyed this episode, please share it using the social media buttons you see in this post.
Also, we'd love it if you would leave an honest review for The Optimize Paleo Podcast on iTunes! Ratings and reviews are super helpful and greatly appreciated as it helps us expose this show to a wider audience and spread this information to more people who need to hear it. We read every review so we look forward to hearing from you!
And finally, don't forget to subscribe to the show on iTunes to get automatic updates…see you next time!
Click the button below to subscribe on iTunes: