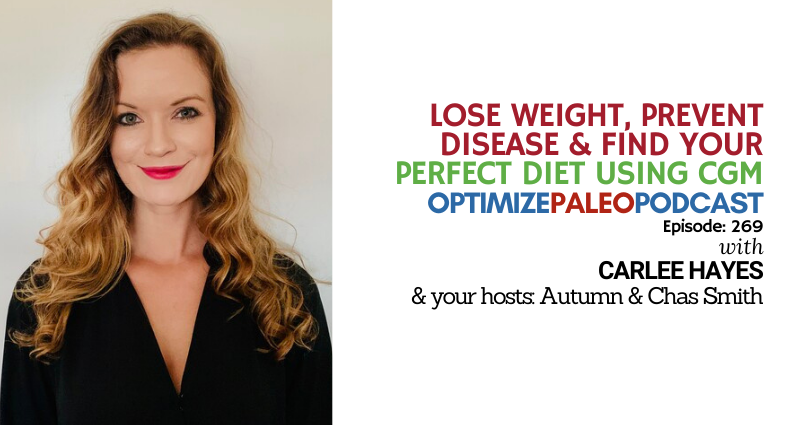 EP269: Lose Weight, Prevent Disease & Find Your Perfect Diet Using CGM with Carlee Hayes
A recent Stanford study revealed that 80% of healthy people had blood sugar spikes.
Why does this matter?
Because blood sugar spikes are dangerous when they occur often enough or for long periods of time and can cause...
Weight gain
Cravings
Energy dips
Mood crashes
...and increased risk of conditions such as insulin resistance, cardiovascular disease, reproductive issues, and cancer.
But the silver lining is there is now a way for EVERYONE to see exactly what is happening with their blood sugar in real-time using continuous glucose monitoring (CGM).
Wearing a CGM allows you to identify the foods that are not working for you and find YOUR perfect diet. This is exactly what we talk about in today's podcast with glucose expert and Lead Dietician at NutriSense, Carlee Hayes. Here are some of the valuable insights we discuss...
Signs you have a blood sugar issue
What a blood sugar expert eats for breakfast
How to break a fast
The best time to eat carbs
The best time to eat carbs around a workout
My #1 hack for stable blood sugar
The link between weight gain and blood sugar
Why a "stable energy state' is important for weight loss
Optimal glucose ranges
The link between food sensitivities and blood sugar
Glucose spikes and insulin
The 2 phases of insulin response (and why it matters!)
The relationship between stress and your blood sugar
Why most measures of blood sugar are inadequate
Physical stressors that affect our blood sugar
The 4 major lifestyle factors that affect blood sugar
Whether alcohol and caffeine affect your blood sugar
How to try a CGM for $30 off!
And so much more...
Understanding your unique blood sugar response is one of the most important things you can do to improve your health and prevent disease so don't miss this one, friends! And do not forget to share this important information with anyone you know might benefit.
Valuable Resources:
NutriSense - Continuous Glucose Monitoring
>>> Learn More About NutriSense + Claim Your Exclusive Discount HERE!
Use Discount Code: PALEOVALLEY30 at Checkout for $30 Off
Paleovalley Apple Cider Vinegar Complex
>>> Click HERE to Support Healthy Blood Sugar Levels 100% Risk-Free TODAY!
Bio:
Carlee Hayes is a Registered Dietitian Nutritionist and the Lead Dietitian at NutriSense, a company that leverages continuous glucose monitoring technology and data to prevent disease and improve healthspan. With an extensive background in nutrition counseling, weight management, and metabolic health, Carlee is on a mission to stop preventable diseases and help people live their healthiest lives.
Thanks for Listening!
Thanks so much for joining us this week. Have some feedback you'd like to share or a question you'd like to ask? Email us at [email protected]!
If you enjoyed this episode, please share it using the social media buttons you see in this post.
Also, we'd love it if you would leave an honest review for The Optimize Paleo Podcast on iTunes! Ratings and reviews are super helpful and greatly appreciated as it helps us expose this show to a wider audience and spread this information to more people who need to hear it. We read every review so we look forward to hearing from you!
And finally, don't forget to subscribe to the show on iTunes to get automatic updates…see you next time!
Click the button below to subscribe on iTunes: