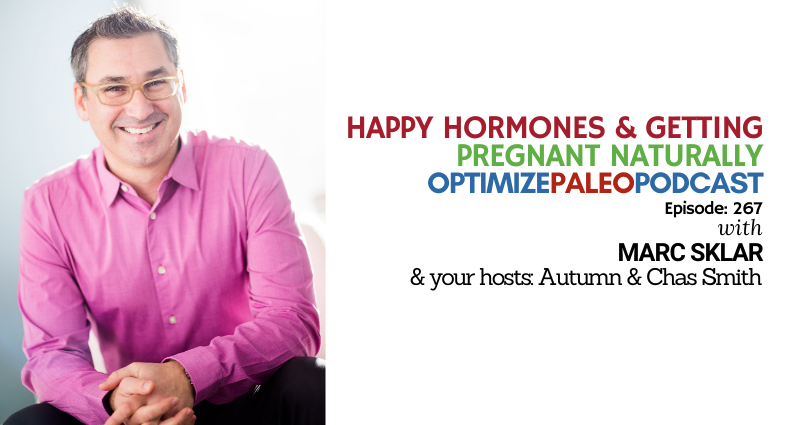 EP267: Happy Hormones & Getting Pregnant Naturally with Marc Sklar
According to the CDC, approximately 9% of men and 10% of women between the ages of 15-44 struggle with infertility.
I was one of those people.
There is nothing more frustrating than wanting to start a family and finding out it is going to be a long road.
Fortunately, you do not have to struggle like I did and there is a lot you can do to improve the quality of your egg and sperm and increase your chances of conceiving naturally!
So if you or someone you love is trying to conceive, tune in for this week's podcast with Harvard-trained fertility expert Dr. Marc Sklar as we chat all about simple, natural baby-making strategies! Here are the fascinating topics we cover...
Is fasting good for reproductive health?
The time when fasting may not be helpful
Why infertility rates are rising
The best foods for fertility
Foods that interfere with fertility
The best first step for improving fertility with food
His fertility smoothie recipe
Does royal jelly work for fertility?
The 3 big dietary mistakes he sees women making that interfere with fertility
The simple exercise he uses to help people improve and customize their diet
His 6 favorite supplements for everyone trying to get pregnant
The little-known fertility superfood
A simple way to consume more veggies
The best tests to get for fertility
Why your doctor is not ordering all of the necessary tests
When to ask for help
Why low egg quality does not mean no pregnancy
And much more!
This is the podcast I wish I had heard when I was trying to get pregnant and I sincerely hope it's helpful! Please share with anyone you think may benefit.
Valuable Resources:
Marc Sklar - The Fertility Expert
>>> Learn about The Hope Program and how you can work with natural fertility experts to create a personalized fertility plan HERE!
Paleovalley Organic Supergreens
>>> Click HERE to Try Supergreens 100% Risk-Free + Get up to 20% Off TODAY!
Bio:
For more than 18 years, The Fertility Expert, Dr. Marc Sklar, has been helping couples struggling to conceive, and women and men regulating their hormones and reproductive health with his virtual fertility consultations, coaching and fertility programs.
In addition to his Doctor of Acupuncture and Oriental Medicine, Dr. Sklar trained at the Harvard Medical School, Mind/Body Medical Institute. He is the creator of Fertility TV, MarcSklar.com and ReproductiveWellness.com, and the co-author of Secret to Conception.
The Fertility Expert lives in San Diego, with his wife and two sons, where he has his 2 clinics. But he also works with couples all over the world through his fertility online coaching.
Thanks for Listening!
Thanks so much for joining us this week. Have some feedback you'd like to share or a question you'd like to ask? Email us at [email protected]!
If you enjoyed this episode, please share it using the social media buttons you see in this post.
Also, we'd love it if you would leave an honest review for The Optimize Paleo Podcast on iTunes! Ratings and reviews are super helpful and greatly appreciated as it helps us expose this show to a wider audience and spread this information to more people who need to hear it. We read every review so we look forward to hearing from you!
And finally, don't forget to subscribe to the show on iTunes to get automatic updates…see you next time!
Click the button below to subscribe on iTunes: