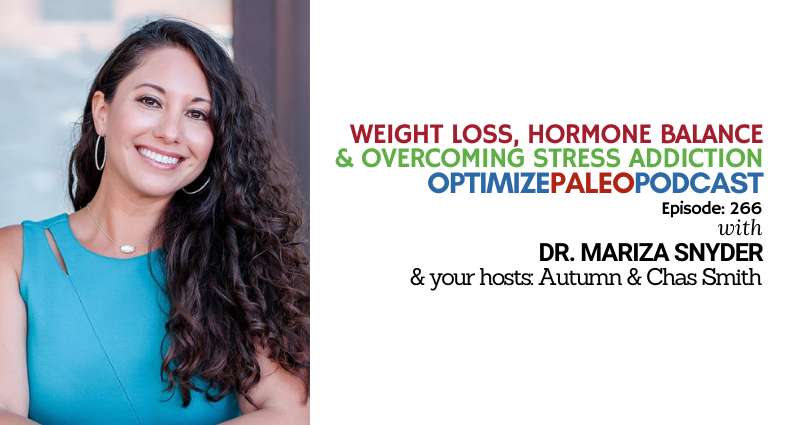 EP266: Weight Loss, Hormone Balance & Overcoming Stress Addiction with Dr. Mariza Snyder
One of the biggest lies women have ever been told is that weight gain and hormonal havoc is inevitable as you age.

The truth is: you can stay healthy, energized and balanced regardless of your life stage.

So if you are doing all of the same things you've always done and yet you are…
Gaining weight
Suffering from low energy
Experiencing mood issues
Losing muscle
Or just not getting the results you used to, check out this week's incredible podcast with women's hormone expert and #1 National Bestselling author, Dr. Mariza Snyder about what it takes to age gracefully. Here are some of my favorite takeaways...
The one food to avoid after 40
Why women gain weight even when they don't consume sugar in perimenopause
Her favorite weight loss strategy for women over 35
How to reset circadian rhythm for healthier hormones
The common habit that leads to hormonal havoc
The safe window for bioidentical hormone replacement therapy
The risks and benefits of hormone therapy
Why stress is not a "slight edge"
Signs you have low cortisol
What she had to do to break her addiction to stress
How to take yourself out of the stress response
3 ways to stop feeling stressed
Her favorite essential oils for a mood, focus, energy and craving reduction
Her "liquid Ambien" for restful sleep
How to quiet mental chatter at bedtime
Her favorite essential oils
And so much more!
I sincerely hope you love this podcast as much as I do! Don't forget to share this podcast with anyone you think it might help and tag your friends in the comments.
Valuable Resources:
Dr. Mariza Snyder
>>> Learn more about the Menopause Solution + Get your FREE Toolkit HERE!
Paleovalley Beef Sticks
>>> Click HERE to Try Grass Fed Beef Sticks RISK-FREE + Get up to 20% Off TODAY!
Bio:
Dr. Mariza Snyder is a functional practitioner, women's health expert and the author of seven books: The #1 National Bestselling book, The Essential Oils Hormone Solution, focuses on balancing women's hormones. Other bestselling books are: The Smart Mom's Guide to Essential Oils and The DASH Diet Cookbook. Dr. Mariza's upcoming book, The Essential Oils Menopause Solution, focuses on solutions for women in perimenopause and menopause.
For the past ten years, she has lectured at wellness centers, conferences, and corporations on hormone health, essential oils, nutrition, and detoxification. She has been featured on Dr. Oz, Oprah Magazine, Fox News Health, MindBodyGreen and many publications. Dr. Mariza is also the host of the top rated Essentially You Podcast, designed to empower women to become the CEO of their health. Check out her website, drmariza.com, for women's hormone tips, including recipes and remedies.
Thanks for Listening!
Thanks so much for joining us this week. Have some feedback you'd like to share or a question you'd like to ask? Email us at [email protected]!
If you enjoyed this episode, please share it using the social media buttons you see in this post.
Also, we'd love it if you would leave an honest review for The Optimize Paleo Podcast on iTunes! Ratings and reviews are super helpful and greatly appreciated as it helps us expose this show to a wider audience and spread this information to more people who need to hear it. We read every review so we look forward to hearing from you!
And finally, don't forget to subscribe to the show on iTunes to get automatic updates…see you next time!
Click the button below to subscribe on iTunes: