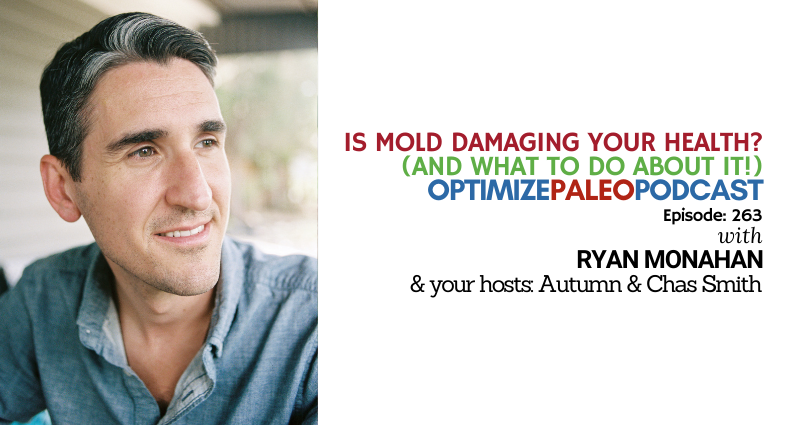 EP263: Is Mold Damaging Your Health? (and What to Do About It!) with Ryan Monahan
It's not talked about nearly enough, but chronic symptoms such as nasal congestion, postnasal drip, eye swelling, runny nose, headache, and facial pain can be indicators of mold illness.
In fact, according to the Mayo Clinic, 96% of sinusitis is due to mold and fungal overgrowth.
Which is why in this week's podcast with my friend, mold expert (and fellow FDN practitioner), Ryan Monahan, we talk all about the many, underappreciated ways mold can negatively impact your health.
Most importantly, we talk about how to identify, diagnose and treat mold illness. Here are some of the other fascinating topics we cover….
The #1 food contaminated with mold
Common symptoms that may indicate you are suffering from mold illness
The real reason you get coffee jitters
The healthy foods that can make mold issues worse
Why and how mold is so damaging
The common conditions linked to mold issues
What mycotoxins are - and why they matter
The best test for determining if there is mold in your home.
The biomarkers that clue you in to the fact that you may have mold issues
The best supplements for mold detoxification
The MOST important thing to do if you have mold issues
The $15 at-home online test you can take to identify a potential mold issue
And so much more!
According to Ryan, 24% of the population has a genetic predisposition that makes them more susceptible to mold illness.
So tune in now and don't forget to share this with anyone you think it might help.
Valuable Resources:
Paleovalley Turmeric Complex
>>> Click HERE to Discover the detox-supporting benefits of Turmeric Complex + SAVE up to 20%
The Mindful Nutrivore
>>> Click HERE to Learn more about Ryan Monahan, FDN-P
Bio:
Ryan Monahan is a Functional Diagnostic Nutrition Practitioner (FDN-P), clinical advisor for the medical director program at FDN, and certified Autoimmune Protocol Coach with a passion for uncovering hidden stressors that contribute to thyroid disease. Ryan spent over 10 years visiting more than 40 health professionals to find answers to his chronic health complaints until being diagnosed with Hashimoto's in 2012. Since then, his mission has been to change the dialogue about chronic disease towards a holistic, functional approach.
With the help of cutting-edge functional lab work, Ryan helps his clients to identify the true root causes of their primary health challenges so that they can stop wasting time and resources, and start living their best life.
Typically, his clients are those who have struggled with finding relief from their autoimmune symptoms. Oftentimes, they feel that they've "tried everything", and that traditional medicine hasn't served them. In his experience, there is a better way.

Thanks for Listening!
Thanks so much for joining us this week. Have some feedback you'd like to share or a question you'd like to ask? Email us at [email protected]!
If you enjoyed this episode, please share it using the social media buttons you see in this post.
Also, we'd love it if you would leave an honest review for The Optimize Paleo Podcast on iTunes! Ratings and reviews are super helpful and greatly appreciated as it helps us expose this show to a wider audience and spread this information to more people who need to hear it. We read every review so we look forward to hearing from you!
And finally, don't forget to subscribe to the show on iTunes to get automatic updates…see you next time!
Click the button below to subscribe on iTunes: