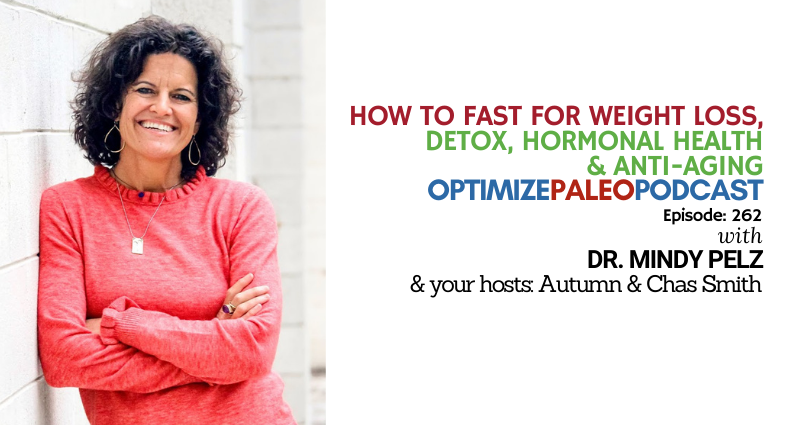 EP262: How to Fast for Weight Loss, Detox, Hormonal Health & Anti-Aging with Dr. Mindy Pelz
We've all heard about the impressive benefits of intermittent fasting, but did you know the benefits of fasting (detox, fat burning, anti-aging, immune support) kick in at different times?
A "gut health" fast, for example, should be a little longer than one for fat burning or detox.
And if you're a woman, there are certain times in your menstrual cycle where you may want to stop or limit fasting.
In other words - in order to experience the many benefits of fasting - you need a sound strategy.
Which is why in this week's podcast with fasting expert Dr. Mindy Pelz, we talk all about how to create a fasting rhythm that supports your unique health goals.
Dr. Mindy is brilliant, energetic and her science-backed approach will inform and inspire you, I promise
Here are some of the topics we delve into….
The researched-backed benefits of fasting
Why fasted exercise can be beneficial
Why fasting helps you feel calm
The 3 different reasons you should fast
The anti-aging hormone released when you fast for 13 hours
How to fast to lower inflammation, detox, anti-aging, gut issues, and weight loss resistance
The benefits of a dry fast (and when you should and should not use it!)
Why fasting improves your mood
Why women should fast differently
Her fasting strategy for better immune response
Non-fasting strategies for boosting autophagy (detox)
The simplest way to start fasting
How long to fast to kill cancer cells
Which day of your cycle you should stop fasting
How to deal with hunger during a fast
The most important thing to do before a fast
The 4 emotions that kill autophagy
How long to fast to reduce your risk of cancer
The 2 awesome benefits of a cold shower
The 2 supplements you should use when fasting
And so much more!

Friends, this has been one of my favorite interviews to date and so I hope you love it as much as I did. Please share far and wide if you do!
Valuable Resources:
Dr. Mindy Pelz Fasting Cheat Sheet
>>> Click HERE for Your FREE Fasting Cheat Sheet NOW!
Paleovalley Apple Cider Vinegar Complex
>>> Click HERE to Get up to 20% Off TODAY!
Bio:
Dr. Mindy Pelz is empowering people all over the world to believe in their body's own healing abilities through fasting, diet variation, removing chemicals from the body, and so much more. Dr. Mindy is a recognized leader in the alternative health world and is the founder of Family Life Wellness, her local clinic that is made to speed up healing and maximize performance. She is also the founder of the Reset Academy, a private group where she and her team help people implement the principles of fasting, keto, and diet variation into their daily lives. She is the host of one of the leading science podcasts, The Resetter Podcast, and the author of three best-selling books, The Menopause Reset, The Reset Factor, and The Reset Kitchen.
Thanks for Listening!
Thanks so much for joining us this week. Have some feedback you'd like to share or a question you'd like to ask? Email us at [email protected]!
If you enjoyed this episode, please share it using the social media buttons you see in this post.
Also, we'd love it if you would leave an honest review for The Optimize Paleo Podcast on iTunes! Ratings and reviews are super helpful and greatly appreciated as it helps us expose this show to a wider audience and spread this information to more people who need to hear it. We read every review so we look forward to hearing from you!
And finally, don't forget to subscribe to the show on iTunes to get automatic updates…see you next time!
Click the button below to subscribe on iTunes: