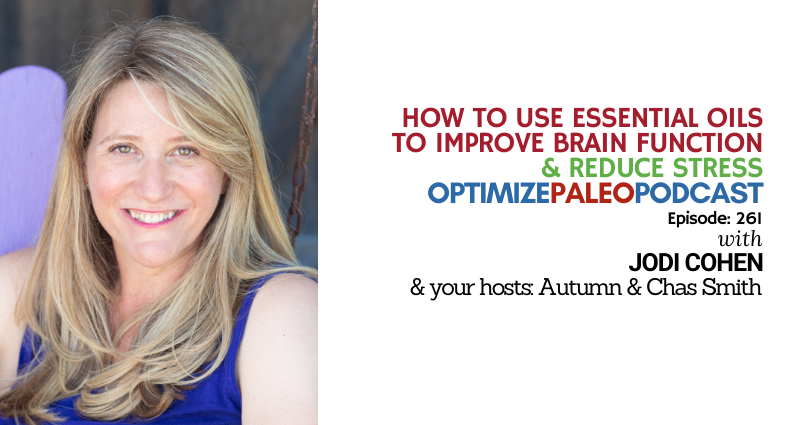 EP261: How to Use Essential Oils to Improve Brain Function & Reduce Stress with Jodi Cohen
Today we are all looking for simple ways to reduce stress and support overall wellness.
And while we often talk about food, in this week's podcast with Jodi Cohen (best-selling author and founder of Vibrant Blue Oils), we take a deep dive into how essential oils can be used to support brain chemistry and overall health.
We also talk about how to shift out of STRESS mode and into relaxation mode instantly. This little-known superpower is one most of us could use now more than ever!
Here are some of the other gems you'll learn...
How to know which essential oils are best for you
The 5 things to balance for optimal health
The best oil for reducing stress
What the vagus nerve is and why it matters
How to easily access the vagus nerve
How to shift into rest-digest-regenerate mode instantly
How to eat to absorb more nutrients when you eat
How to hack a panic attack
The best oils for reducing anxiety and depression
How to improve flow in the body (and why it matters)
How to nose breathe to calm down
Why essential oils are so powerful for creating calm
The best oils for focus
The best oils for immune function
How to use oils to easily stimulate the immune system for kids
The best oil for beating sugar and junk cravings
I hope you love this episode as much as I did!
Valuable Resources:
Vibrant Blue Oils
>>> Shop pure, organic and wildcrafted essential oil blends HERE!
Essential Oils to Boost the Brain and Heal the Body Book
>>> Click HERE to Get your FREE Bonus Chapter NOW!
Paleovalley Essential C Complex
>>> Boost your immune system and mood with whole food vitamin C + Save up to 21% TODAY!
Bio:
Jodi Sternoff Cohen is a bestselling author, award-winning journalist, functional practitioner and founder of Vibrant Blue Oils, where she has combined her training in nutritional therapy and aromatherapy to create unique proprietary blends of organic and wild-crafted essential oils. She has helped over 70,000 clients heal from brain-related challenges, including anxiety, insomnia, and autoimmunity.
Her website, vibrantblueoils.com, is visited by over 500,000 natural health seekers every year, and she has rapidly become a top resource for essential oils education on the Internet today. Her first book "Healing with Essential Oils" is available on Amazon.com. Her new book "Essential Oils to Boost the Brain and Heal the Body" was released on March 16, 2021.

Thanks for Listening!
Thanks so much for joining us this week. Have some feedback you'd like to share or a question you'd like to ask? Email us at [email protected]!
If you enjoyed this episode, please share it using the social media buttons you see in this post.
Also, we'd love it if you would leave an honest review for The Optimize Paleo Podcast on iTunes! Ratings and reviews are super helpful and greatly appreciated as it helps us expose this show to a wider audience and spread this information to more people who need to hear it. We read every review so we look forward to hearing from you!
And finally, don't forget to subscribe to the show on iTunes to get automatic updates…see you next time!
Click the button below to subscribe on iTunes: