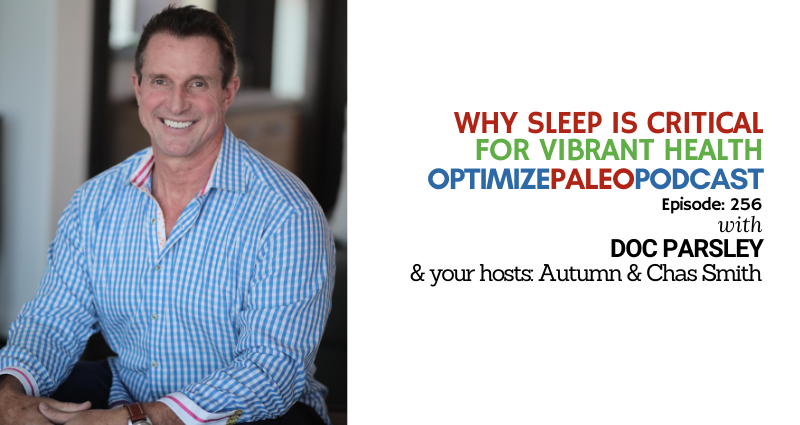 EP256: Why Sleep is Critical for Vibrant Health with Doc Parsley
It's no secret that poor sleep can cause irritability, decreased productivity and sugar cravings, but it may surprise you that according to sleep expert (and former Navy Seal) Dr. Kirk Parsley...
"Those who are chronically sleep deprived, those who work lifetime night shifts, chronic insomniacs and those who take sleeping pills chronically die (on average) 12 years earlier and have a higher risk of disease earlier in life."
Why?
Because sleep is literally one of the most (if not THE most) important thing you can do for your health.
So if you're not getting 7-9 hours of sleep each night (or you have kids who aren't great sleepers) check out this week's incredible podcast with Doc Parsley on the importance of sleep, and the simple things you can do to get more of it.
Here are some of the fun tidbits we cover...
How much sleep we actually need each night
The #1 sleep disruptor
The nutrient deficiency that can interfere with sleep
The best sleep supplement on the market
How to get your kids to sleep better
The dangerous downsides of sleep drugs
Why those who take sleep drugs die (on average) 12 years earlier
Signs you are not getting enough sleep
The type of sleep that is critical for brain function
The link between sleep deprivation and ADHD
The ONLY way to know you had a great night of sleep
The #1 most important thing for great sleep
2 things that need to happen for you to wind down
The 3 basics of deep sleep
Why you may need less sleep on a keto diet
Why melatonin is different than most hormones
The 3 pillars of health
And so much more!
Please share this podcast with anyone you know who could use a few more zzzz's and consider it your good deed for the day.
Valuable Resources:
Doc Parsley's Sleep Remedy
Get 10% OFF with discount code: paleovalley HERE!
Paleovalley Essential C Complex
Support better sleep by reducing cortisol levels HERE!
Bio:
Dr. Kirk Parsley (Doc Parsley) served as an Undersea Medical Officer at Naval Special Warfare Group One from June 2009 to January 2013. While there, he led the development and supervised the group's first Sports Medicine Rehabilitation center. He is a former SEAL, and received his Medical Degree from Bethesda, Uniformed Services University of Health Sciences (USUHS) in 2004. He interned in Obstetrics and Gynecology at Balboa Naval Hospital San Diego in 2005 and subsequently completed a Navy residency in Hyperbarics and Diving Medicine in 2006.

Doc Parsley has been a member of the American Academy of Sleep Medicine since 2006 and served as Naval Special Warfare's expert on Sleep Medicine. In addition he is certified in hormonal modulation (Age-Management Medicine). After leaving the Navy he went into concierge medicine and consulting. He continues to consult for multiple corporations, and professional athletes/teams. Doctor Parsley lectures worldwide on sleep, wellness, and hormonal optimization.
His philosophy for wellness is simple; in order to optimize our health and get the most out of our bodies and minds, we must live more closely to the way we evolved as a species.
Thanks for Listening!
Thanks so much for joining us this week. Have some feedback you'd like to share or a question you'd like to ask? Email us at [email protected]!
If you enjoyed this episode, please share it using the social media buttons you see in this post.
Also, we'd love it if you would leave an honest review for The Optimize Paleo Podcast on iTunes! Ratings and reviews are super helpful and greatly appreciated as it helps us expose this show to a wider audience and spread this information to more people who need to hear it. We read every review so we look forward to hearing from you!
And finally, don't forget to subscribe to the show on iTunes to get automatic updates…see you next time!
Click the button below to subscribe on iTunes: