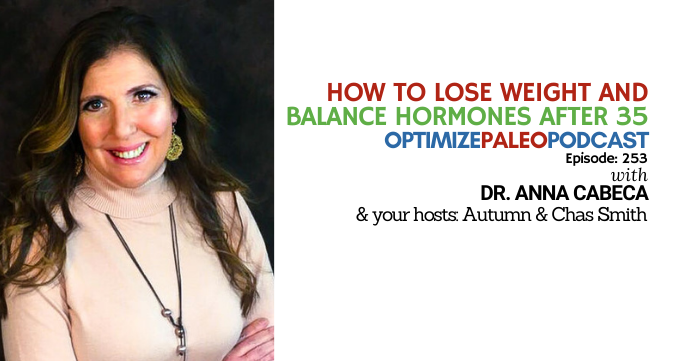 EP253: How to Lose Weight and Balance Hormones After 35 with Dr. Anna Cabeca
Many women suffer from hormonal imbalance that can lead to sudden and inexplicable weight gain in their late 30's and/or early 40's.
And while it may seem hopeless, according to triple board certified physician, author and hormone expert, Dr. Anna Cabeca, the weight gain that occurs during perimenopause and menopause is not unavoidable.
In fact, there are many simple research-backed strategies you can begin using TODAY to improve your hormonal health from the comfort of your own home.
(Strategies she has used to help her patients lose an average of 9 pounds in 16 days!)
I know it sounds too good to be true, but it's not so tune in now for all the juicy details.
Here are some of the other fascinating topics we delve into…
The link between carbohydrates and healthy hormones
The ideal time to stop eating every night
How to identify your perfect macros
How to lose 9 pounds in 16 days
How many hours women should fast each day
The daily habit women over 40 need to break
The most powerful hormone in our body (this will surprise you)
A quarantine-friendly daily habit that improves hormone health
The link between ketosis and thyroid health
The simple marker you can track at home for better overall health
Why your blood ph matters for hormonal health (and whether you can change it)
A simple daily strategy to lower your risk for breast cancer
The 4 labs she recommends tracking every year
How to use feast/famine cycling for hormonal health
The best time to drink wine
Dr. Ana's favorite supplements
The family-friendly evening ritual that optimizes hormones
And so much more!
This was a super insightful conversation so please SHARE with anyone and everyone you know and love!
Thank you for listening, friends!

Valuable Resources:
Making Keto Work for Women over 40
>>> Get Dr. Anna Cabeca's FREE eBook HERE!
Support Hormonal Health with Essential C Complex
>>> Try the most potent whole-food vitamin C supplement 100% Risk-Free HERE!
Check out Dr. Cabeca's Previous Optimize Paleo Interview Here
>>> EP154: The Hormone Fix With Dr. Anna Cabeca

Bio:
Dr. Anna Cabeca, a triple board certified, Emory University trained physician and hormone expert was diagnosed with early menopause at age 38. Devastated, she set out on a personal wellness journey to reverse her menopause side effects, which resulted in her delivery of a healthy baby girl at the age of 41.
After experiencing her own health successes, Dr. Cabeca began counseling others, ultimately changing the lives of thousands of women across the globe. Her new book "The Hormone Fix" and other empowering transformation programs have helped women of all ages become their best selves again. Her successful line of all-natural products features the alkaline superfoods drink Mighty Maca® PLUS and the rejuvenating vulvar cream Julva®.
Recently, Dr. Cabeca was named "2018 Innovator of the Year" by Mindshare Collaborative, the premier community for health and wellness influencers and entrepreneurs. In 2017, the Age Management Medicine Group presented her the prestigious Alan P. Mintz Award for Clinical Excellence.
You can discover more about Dr. Cabeca at DrAnnaCabeca.com and connect with her on Facebook, Twitter and Instagram.


Thanks for Listening!
Thanks so much for joining us this week. Have some feedback you'd like to share or a question you'd like to ask? Email us at [email protected]!
If you enjoyed this episode, please share it using the social media buttons you see in this post.
Also, we'd love it if you would leave an honest review for The Optimize Paleo Podcast on iTunes! Ratings and reviews are super helpful and greatly appreciated as it helps us expose this show to a wider audience and spread this information to more people who need to hear it. We read every review so we look forward to hearing from you!
And finally, don't forget to subscribe to the show on iTunes to get automatic updates…see you next time!
Click the button below to subscribe on iTunes: