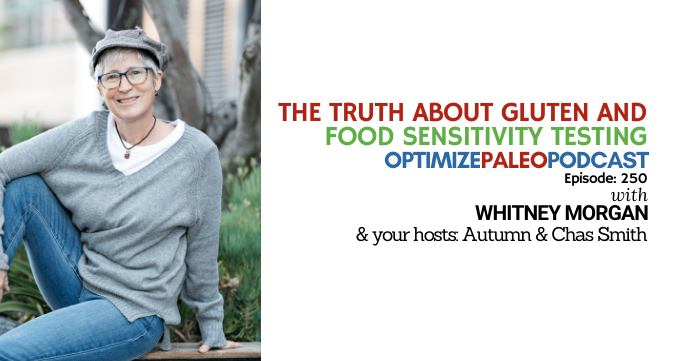 EP250: The Truth about Gluten and Food Sensitivity Testing with Whitney Morgan
Going gluten-free is all the rage these days for good reason.
But, it's not always easy.
So if you've ever struggled with questions like...
How do I really know if gluten is a problem for me?
How does gluten impact my gut and immune system?
What are the most common hidden sources of gluten?
Is going gluten free enough to heal my health issues?
How do I get my family on board?
Please stop what you are doing and tune in to today's podcast with gluten expert and creator of the Gluten Gauntlet System, Whitney Morgan! Whitney is one of my mentors, one of the most knowledgeable and discerning functional practitioners I've met and we take a deep dive into all things gluten and food sensitivity testing.
Here are some of the highlights...
Her 3 favorite food sensitivity tests
Common signs and symptoms you are sensitive to gluten
The #1 obstacle to going gluten-free (and how to overcome it)
The difference between wheat sensitivity and gluten sensitivity
2 surprising sources of gluten
Why gluten sensitive folks should avoid communal coffee grinders
5 common foods your body may mistake for gluten
And so much more!
She also shares a gift at the end of our chat that will make every gluten-free warrior's life MUCH easier!! I hope you love this chat as much as I did and please don't forget to share this interview with anyone you know who is thinking of going gluten-free!

Valuable Resources:
Learn more about the Gluten Gauntlet Mini-Course HERE!
Save $50 with Discount Code: paleovalley50
Support your body's ability to process gluten with Essential C Complex HERE!
Try the most potent whole-food vitamin C 100% Risk-Free today.
Bio:
Whitney Morgan, founder of Morgan Nutrition and creator of the Gluten Gauntlet System, is a gluten-free warrior and fierce functional health coach. She helps women repair the damage that years of gluten exposure have done to their health.
In almost a decade of working with gluten-sensitive and celiac clients, Whitney's seen first-hand that reversing, and even healing, your gluten-related disorder requires much more than just going gluten-free. As Whitney likes to say, "going gluten-free is like putting out the fire when your house is burning down. It's the obvious first step, but you're left with a crap-load of damage when the smoke clears."
In addition to her role as the guru of all-things-gluten, Whitney spends much of her professional time advising other health coaches and functional medicine practitioners how to deal with complex client cases. Whitney's not-so-secret obsessions are puppies, politics, and true-crime.
Thanks for listening!
Thanks so much for joining us this week. Have some feedback you'd like to share or a question you'd like to ask? Email us at [email protected]!
If you enjoyed this episode, please share it using the social media buttons you see in this post.
Also, we'd love it if you would leave an honest review for The Optimize Paleo Podcast on iTunes! Ratings and reviews are super helpful and greatly appreciated as it helps us expose this show to a wider audience and spread this information to more people who need to hear it. We read every review so we look forward to hearing from you!
And finally, don't forget to subscribe to the show on iTunes to get automatic updates…see you next time!
Click the button below to subscribe on iTunes: