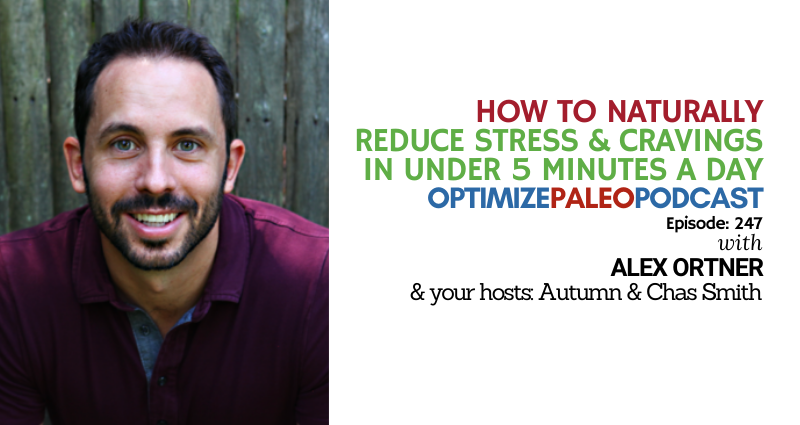 EP247: How to Naturally Reduce Stress and Cravings in Under 5 Minutes a Day with Alex Ortner
Anxiety. Resentment. Sadness. Overwhelm.
Feelings so many of us are experiencing right now.
And feelings that can negatively impact our health if left unaddressed.
Fortunately, there is a SIMPLE research-backed way to work through negative emotions and shift your body into relaxation mode in under 5 minutes.
It's called tapping, or the Emotional Freedom Technique (EFT).
EFT has been empirically shown to reduce cortisol (stress hormone) levels more than talk therapy AND reduce cravings for foods like chocolate.
So if you're feeling exhausted, overwhelmed, sad, and want to learn about a simple way to feel more relaxed anytime, anywhere, please check out today's podcast with co-owner of The Tapping Solution, Alex Ortner.
Here are some of the things you'll learn:
What is EFT?
How to consciously shift from the stress response to relaxation response (and why it matters)
How to access your full brain to make your best decisions
Why tapping can rewire the brain and reduce cravings
HOW to tap
A fun way to teach kids to tap
And so much more!
Learning to relax is one of the most important things we can do for our health! I hope this conversation inspires you to make it part of your daily routine...
Don't forget to share it with anyone you think may benefit!

Valuable Resources:
Download Your FREE Tapping Meditation HERE!
A guided tapping Meditation to support you in befriending your body while releasing stress and anxiety.
Get Your FREE Tapping for Weight Loss & Body Confidence eBook HERE!
Discover exactly what disempowering beliefs are holding you back from having the body and the confidence you deserve. And how to eliminate them in minutes.
Attend the FREE Tapping for Weight Loss Webinar HERE!
Learn why most people struggle to lose weight and how you can use EFT Tapping Today to finally lose weight faster than you ever thought possible.
Support Mental Health and Brain Function with NeuroEffect HERE!
Try the most potent whole-food mushroom supplement 100% Risk-Free today.
Bio:
Alex Ortner is the Chief Marketing Officer and co-owner, along with his brother Nick and sister Jessica, of The Tapping Solution, a company on a mission to bring into the mainstream a simple, life-changing, technique known as EFT or Tapping.
He is a speaker, author, entrepreneur, and marketing expert who has produced first-of-their-kind online programs such as The Tapping World Summit, the longest running online summit which has been attended by over 3 million people over the last 12 years and The Tapping Solution App, which features easy to follow Tapping Meditations and has over 140,000 active monthly users and over 1.8 million meditation plays.
He is the co-founder of The Tapping Solution Foundation, which aids trauma survivors such as genocide survivors in Rwanda, war veterans, and those effected by school shootings, such as the one in his home town of Sandy Hook, CT.
He is also a father of 3 and the author of the children's book "Gorilla Thumps and Bear Hugs: A Tapping Solution Children's Story" and speaks to teachers and students through his foundation on how to use Tapping to create balance, relieve stress and get better results in the classroom.
Thanks for listening!
Thanks so much for joining us this week. Have some feedback you'd like to share or a question you'd like to ask? Email us at [email protected]!
If you enjoyed this episode, please share it using the social media buttons you see in this post.
Also, we'd love it if you would leave an honest review for The Optimize Paleo Podcast on iTunes! Ratings and reviews are super helpful and greatly appreciated as it helps us expose this show to a wider audience and spread this information to more people who need to hear it. We read every review so we look forward to hearing from you!
And finally, don't forget to subscribe to the show on iTunes to get automatic updates…see you next time!
Click the button below to subscribe on iTunes: