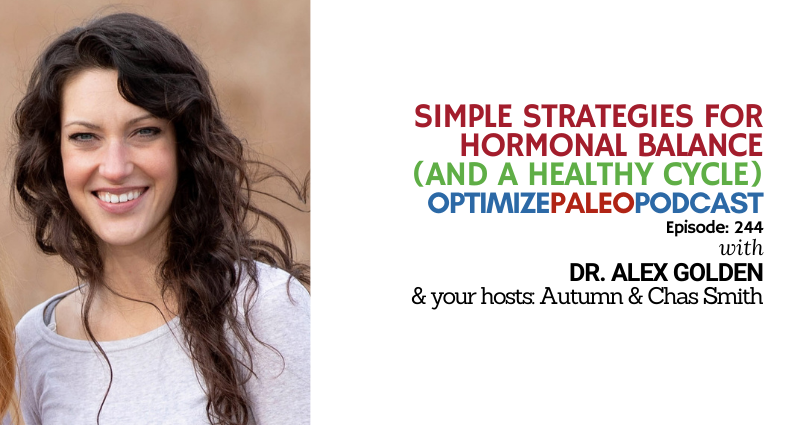 EP244: Simple Strategies for Hormonal Balance (And A Healthy Cycle) with Dr. Alex Golden
IN THIS EPISODE:
Many people today struggle with symptoms of hormonal imbalance like:
Weight Gain
Fatigue
Irritability
Constipation
Acne
Puffy skin
PMS
Anxiety
Irregular periods
Fortunately, there are many super simple ways to NATURALLY balance hormones and make your cycle work for you.
(It's true...your period doesn't have to be miserable).
Tune in to today's juicy discussion with Dr. Alex Golden, one of the smartest (and most wonderful) hormone experts I've ever had the privilege of working with, for all the awesome details!
Here are some of my favorite takeaways...
The 2 strategies she's using to keep her immune system strong while working in the ICU…
A morning cocktail for inflammation reduction, blood sugar balance and healthy hormones…
The essential oils she uses to break up congestion...
The 4 phases of your cycle and how to take advantage of each one...
A simple way to track ovulation at home (and why ovulation it SO important)...
What feeling anxious can tell you about your hormones...
A simple daily elixir for hormonal harmony...
Her "pain to purpose" story...
And much more!
Thanks for watching, friends!
Don't forget to SHARE this podcast with anyone who may benefit from this incredible conversation.
Valuable Resources:
Learn More About the Zestier Program HERE!
Discover how to work with your cycle to experience less anxiety and stop PMS.
Learn More About the Healthy Hormones Program HERE!
Get hormone help for high achieving women.
Support Hormonal Health with Essential C Complex HERE!
Try the most potent whole-food vitamin C 100% Risk-Free today.

Bio:
Dr. Alex Golden (M.D.) and Megan Blacksmith (Health Coach & Functional Diagnostic Nutrition Practitioner) of Zesty Ginger work with pre-menopausal women in an online group format. We focus on balancing hormones and supporting detoxification by teaching women to use the phases of their menstrual cycles to their advantage.
The natural ebb and flow that happens to our hormones, organ systems, and bodies overall as women is there to renew and strengthen us. When we work with the natural cycles of our bodies, we allow ourselves to heal and recover on a level that few of us ever reach when we operate within the "rules" of the hectic modern world. Even the alternative medicine world has lost its connection to how the female body operates. Most protocols and health programs out there show no regard for the cycles that govern the flow of our bodies as women. By focusing on different activities, elixirs, foods and rituals each week of your cycle we can help the body to detoxify naturally.
They are the founders of the Zestier Program and Healthy Hormones Group as well as hosts of the 4 Phase Cycle Podcast.
To learn more, follow them on Instagram @zesty_ginger where they share tips for optimizing your cycle & hormones, naturally supporting detoxification and upgrading your food, products and mindset!
Thanks for listening!
Thanks so much for joining us this week. Have some feedback you'd like to share or a question you'd like to ask? Email us at [email protected]!
If you enjoyed this episode, please share it using the social media buttons you see in this post.
Also, we'd love it if you would leave an honest review for The Optimize Paleo Podcast on iTunes! Ratings and reviews are super helpful and greatly appreciated as it helps us expose this show to a wider audience and spread this information to more people who need to hear it. We read every review so we look forward to hearing from you!
And finally, don't forget to subscribe to the show on iTunes to get automatic updates…see you next time!
Click the button below to subscribe on iTunes: