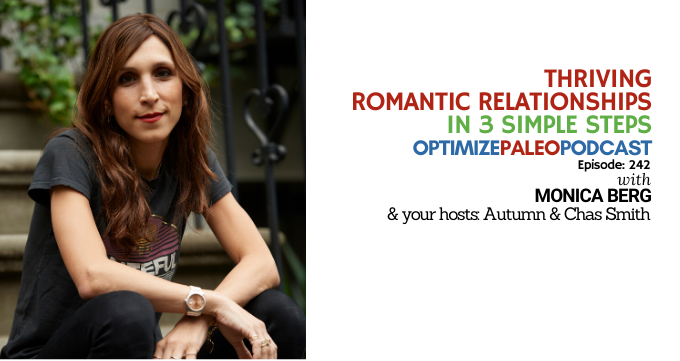 EP242: Thriving Romantic Relationships in 3 Simple Steps with Monica Berg
IN THIS EPISODE:
The quality of our romantic relationships can literally shape the course of our health for better or worse.
Positive relationships can lead to better pain control, less anxiety, fewer doctor's visits and maybe even a longer life.
On the flip side, relationships with high levels of conflict are associated with higher blood sugar levels, elevated blood pressure and an increased risk of obesity.
Which is why I am THRILLED to share one of my favorite relationship experts in the world, Monica Berg.
Monica Berg is a dear friend, one of the wisest women I know and the author of Rethink Love: 3 Steps for Being the One, Attracting the One and Becoming One.
This podcast is FULL of surprising and practical strategies you can use today to improve the quality of your relationship AND your health dramatically. Here's what you'll learn...
The one thing we all need to do more of to stay young (and in love)
Why your partner actually pushes your buttons
How much you really need to disclose in a relationship
The simple antidote for nitpicking your partner
Why there is no such thing as a stable marriage
One critical step for a successful marriage
How the stories in your head hinder healthy relationships
Why shame and guilt can destroy relationships (and how to change it!)
The difference between self care and self interest
Why your partner shouldn't be responsible for validating you
The difference between feedback and validation
Why you should create a credo
The one list you should make in the morning to set yourself up for success
How to help our children work through their emotions successfully
And so much more!
Please share this important podcast with everyone you think it may benefit! Many of us are spending more time than ever with those we love - and this information could make sure your relationships are working for your health - rather than against it.
I sincerely hope it's as helpful for you as it was for me!
Valuable Resources:
Check Monica's Book: Rethink Love: 3 Steps to Being the One, Attracting the One, and Becoming One
Support Your Mental Health & Wellbeing with Paleovalley Turmeric Complex HERE!
Bio:
Monica Berg is an international speaker, spiritual thought leader and Chief Communications Officer of the Kabbalah Centre. She is the author of Fear is Not an Option and Rethink Love. A self proclaimed "Change Junkie," Monica is a fresh voice that channels her many years of kabbalistic study along with personal life experiences. Monica shows individuals how to create a life that not only feels like it's working, but most importantly, a life in which they are living and loving as the powerful, fulfilled person they've always wanted to be.
Thanks for listening!
Thanks so much for joining us this week. Have some feedback you'd like to share or a question you'd like to ask? Email us at [email protected]!
If you enjoyed this episode, please share it using the social media buttons you see in this post.
Also, we'd love it if you would leave an honest review for The Optimize Paleo Podcast on iTunes! Ratings and reviews are super helpful and greatly appreciated as it helps us expose this show to a wider audience and spread this information to more people who need to hear it. We read every review so we look forward to hearing from you!
And finally, don't forget to subscribe to the show on iTunes to get automatic updates…see you next time!
Click the button below to subscribe on iTunes: