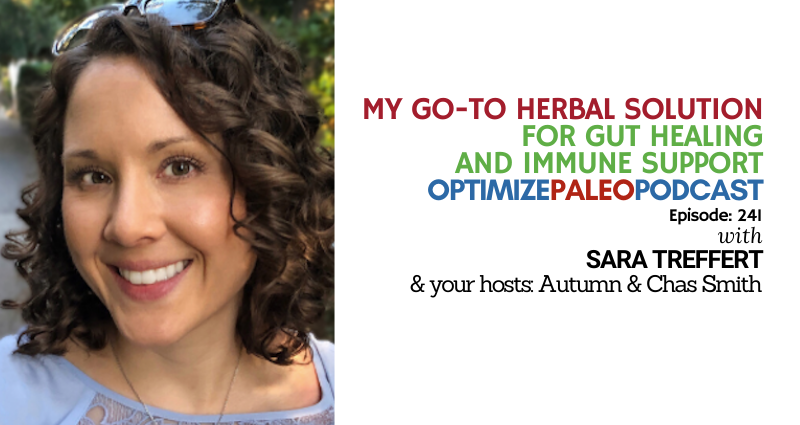 EP241: My Go-To Herbal Solution for Gut Healing and Immune Support with Sara Treffert
IN THIS EPISODE:
Today I want to introduce you to one the most effective herbal supplements I've ever found for immune system support, gut healing, microbiome balance and overall wellness.
In fact, this product has been around for more than 30 years and Great Smoky Laboratories has called it "one of the most powerful formulas" they have ever tested.
- I use it when I travel.
- I use it when I feel run down.
- Or when I want to prevent getting sick.
I also use it in gut-healing protocol for my clients.
And the results are truly impressive!
So if you want to learn about a research-backed strategy to support a healthy immune response and balance your microbiome, check out this fascinating chat with Sara Treffert, Clinical Consultant for Bio-Botanical Research.
Here are just a few topics we cover:
A simple strategy to help you eat less
How to kill bad gut bacteria (and protect the good ones!)
The film hiding in your gut that could prevent healing (and how to get rid of it!)
What SigA is and why it's essential for your immune system (and how to bolster your levels)
The thing everyone with SIBO needs to do
An herbal remedy for constipation
The link between oral health and gut health
How to naturally prevent cavities
Why you need to replace your toothbrush regularly
The link between candida and your teeth
The surprising number of pathogens in your mouth
Hope for people with Lyme disease
The benefits of liposomes
The supplement that helps you detox your gut
The probiotic that can help with allergies (and inflammation reduction)
The one step you can take today for a stronger immune system (without the fuss)!
And much more!
Please share this important information so we can all feel our best!
Valuable Resources:
Learn more about Biocidin HERE!
Get FREE Shipping on all orders with Biocidin discount code: PALEOVALLEY
Get Up to 21% OFF Paleovalley Essential C Complex HERE!
The number one source for organic, whole-food vitamin C
Bio:
Sara Treffert, FDN-P, is a Clinical Consultant and the Director of Marketing for Bio-Botanical Research. She started with the company after continually seeing the dramatic results using the product line personally and with her clients. She truly embodies a WHOLEistic approach, teaching and inspiring others to achieve a balanced and healthy life naturally.
Thanks for listening!
Thanks so much for joining us this week. Have some feedback you'd like to share or a question you'd like to ask? Email us at [email protected]!
If you enjoyed this episode, please share it using the social media buttons you see in this post.
Also, we'd love it if you would leave an honest review for The Optimize Paleo Podcast on iTunes! Ratings and reviews are super helpful and greatly appreciated as it helps us expose this show to a wider audience and spread this information to more people who need to hear it. We read every review so we look forward to hearing from you!
And finally, don't forget to subscribe to the show on iTunes to get automatic updates…see you next time!
Click the button below to subscribe on iTunes: