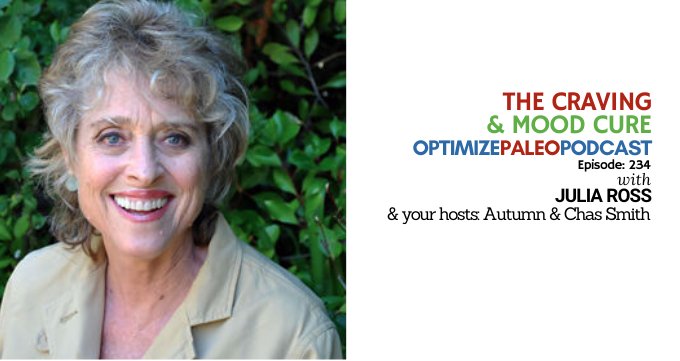 EP234: The Craving & Mood Cure with Julia Ross
IN THIS EPISODE:
We're stressed, out of our routine, trapped at home and for many of us our CRAVINGS for sugar and other junk foods are at an all time high.
But what if I told you that there is a simple, natural way to eliminate your cravings.
AND that this strategy could kick your cravings NOW and also balance your brain chemistry to prevent future cravings.
It sounds too good to be true, but it's not! On this week's podcast, the one and only, Julia Ross (best selling author, celebrated pioneer and one of my heroes) talks all about her natural solutions for food cravings, addictions and mood issues of all kinds that she's been using in private practice for the last 30+ years.
Here's what you'll learn:
How to kick your chocolate cravings overnight
How to identify your brain imbalance
The #1 cause of carbohydrate cravings
The link between stress and cravings (and how to break the cycle!)
The amino acid that feels like a good glass of wine
Why you can't stop craving cheese and bread
The amino acid that feels like a warm hug
The amino acid that makes us feel calm and confident
The amino acid that helps us sleep
How to use amino acids for kids
How to eat to fight cravings
Whether amino acids can be used with medication
Whether a vegan diet supports optimal mental health
And so much more!
This was literally one of my favorite episodes to date! So if you have cravings and want to know what to do to prevent and CURE them - tune in now and be sure to share this life changing information with anyone who might benefit.
Resources We Mention:
Take The Craving Type Questionnaire HERE!
Learn More About Food-Craving Eradication Coaching HERE!
Use code: Paleovalley for a discount on coaching
Bio:
Julia Ross, MA, author of the best-selling books The Mood Cure, The Diet Cure, and her new book, The Craving Cure, is a celebrated pioneer in the use of nutritional therapies for the treatment of eating disorders, addictions, and mood problems. She trains and certifies health professionals, lectures widely, and oversees a virtual clinic for food cravers. She's also been regularly featured in print, online, and on radio and television.
Thanks for listening!
Thanks so much for joining us this week. Have some feedback you'd like to share or a question you'd like to ask? Email us at [email protected]!
If you enjoyed this episode, please share it using the social media buttons you see in this post.
Also, we'd love it if you would leave an honest review for The Optimize Paleo Podcast on iTunes! Ratings and reviews are super helpful and greatly appreciated as it helps us expose this show to a wider audience and spread this information to more people who need to hear it. We read every review so we look forward to hearing from you!
And finally, don't forget to subscribe to the show on iTunes to get automatic updates…see you next time!
Click the button below to subscribe on iTunes: