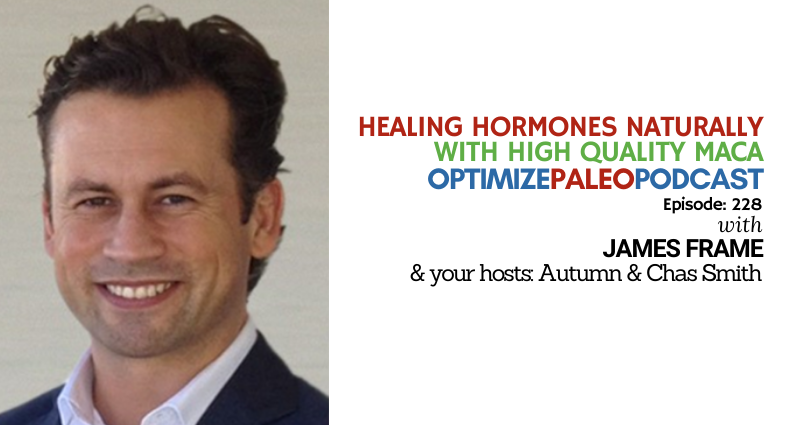 EP228: Healing Hormones Naturally with High Quality Maca with James Frame
IN THIS EPISODE:
Many women I work with today suffer from cycle-related issues like:
Cramps
Hot flashes
Mood issues
Low libido
Night sweats
Acne
It's a HUGE problem.
Fortunately, I've found an all-natural herbal solution that re-balances hormones AND improves cholesterol profiles. The best part?
This solution was the first natural herbal product able to demonstrate statistically significant impacts on multiple hormones in women with hormonal imbalance.
It also has the highest success rate EVER of any menopausal product.
Pretty impressive, right?
So if you're ready to balance your hormones naturally tune in NOW as I chat with the founder of Symphony Natural Health, James Frame.
Here are some of the fascinating subjects we dive into:
Why healthy hormones = graceful aging
The herb that nourishes your adrenals
What the HPA axis is and why it matters
The MANY benefits of maca
Why not all types of maca improve hormones
The link between hormones and heart disease
The truth about adaptogens
The different types of maca and what they're good for
The risks of hormonal therapy
The most important criteria for choosing a high-quality maca
The difference between maca and Femmenessence
And so much more!
Don't forget to share this life-changing information with anyone who might benefit.
Resources We Mention:
Femmenessence - learn more HERE! - Buy 2 get 1 FREE! Special offer automatically applied at checkout.
Himalayan Crystal Salt - learn more HERE! - Special discount for new customers on Himalayan Crystal Salt Intro Pack.
Bio:
James Frame has been in the natural products industry for 23 years and has studied nutrition, exercise physiology and herbal products from around the world. He is the CEO and co-founder of Symphony Natural Health, an international natural products company, that operates in 18 countries around the world and controls the supply chain of all of its products from seed to shelf.
Thanks for listening!
Thanks so much for joining us this week. Have some feedback you'd like to share or a question you'd like to ask? Email us at [email protected]!
If you enjoyed this episode, please share it using the social media buttons you see in this post.
Also, we'd love it if you would leave an honest review for The Optimize Paleo Podcast on iTunes! Ratings and reviews are super helpful and greatly appreciated as it helps us expose this show to a wider audience and spread this information to more people who need to hear it. We read every review so we look forward to hearing from you!
And finally, don't forget to subscribe to the show on iTunes to get automatic updates…see you next time!
Click the button below to subscribe on iTunes: