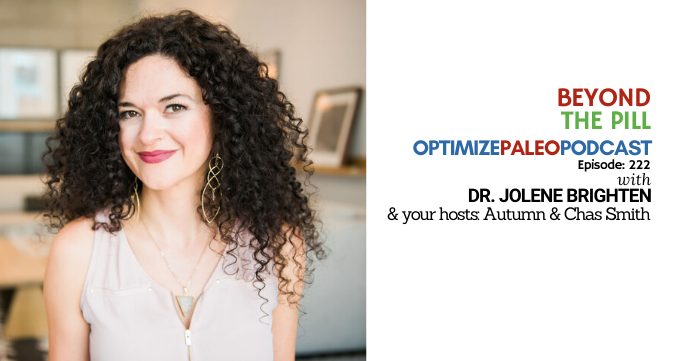 EP222: Beyond The Pill with Dr. Jolene Brighten
IN THIS EPISODE:
Most people understand that hormonal birth control can increase the risk of blood clots and breast cancer, but what most people aren't told is that its use has also been linked to…
-An increased risk of suicide...
-A 330% increased risk of Crohn's Disease…
-And maybe even an increased risk of Alzheimer's.
Scary, right? The last time I took it, I felt SO anxious, I had to stop after only a few days. When I called my doctor to tell her what happened she said...
"That would definitely NOT have anything to do with birth control - call a psychiatrist and get some help."
Turns out - she was wrong. Birth control DOES cause unwanted side effects for many women.
In fact, recent research and the clinical experience of this week's BRILLIANT podcast guest, Dr. Jolene Brighten (author of the best-selling book, Beyond the Pill), has shown that birth control comes with a litany of side effects we're just beginning to understand.
So if you're taking birth control, if you're thinking of taking it, or if you're wondering what you can do instead to support healthy hormonal balance, do yourself a favor and tune into this week's awesome podcast. Here's what we cover...
When fasting is NOT a good idea for women
The digestive benefits of fasting
The best time in your cycle to fast
Great foods to break a fast
A simple sign you have blood sugar issues
The link between Alzheimer's and birth control
The hormone that makes you tired and hungry (and why that's ok!)
What Post Birth Control Syndrome is and why you need to know about it
Where birth control exerts its main effects (This will surprise you!)
The 3 prescription medications that often follow the use of birth control
The link between suicide attempts and birth control
The autoimmune disease that birth control increases the risk of by 300%
Why birth control can increase suicidal attempts in teens
Why synthetic progestin and progesterone are NOT the same thing
How hormones affect our mood
The link between "bad" cholesterol and birth control
Why those with the MTHFR mutation should be weary of birth control
The 3 tests you will definitely want to have before taking birth control
The type of birth control that everyone should avoid
How to talk to your doctor about your symptoms so they understand you
The best 3 steps you can take to heal your hormones
And. So. Much. More.
Don't forget to SHARE this podcast with someone who needs to understand this very important topic.
Resources We Mention:
Beyond the Pill by Dr. Jolene Brighten
Free E-Book: Dr. Brighten's Post-Birth Control Syndrome Detox Diet Quick Start Guide
Bio:
Dr. Jolene Brighten, NMD, is one of the leading experts in women's medicine and is a pioneer in her exploration of the far-reaching impact of hormonal birth control and the little known side effects that impact health in a large way. In her best selling book, Beyond the Pill, she shares her clinical protocols aimed at supporting women struggling with symptoms of hormone imbalance, including Post-Birth Control Syndrome and birth control related side effects. A trained nutritional biochemist and Naturopathic Physician, Dr. Brighten is the founder and Clinic Director at Rubus Health, an integrative women's medicine clinic. She is a member of the MindBodyGreen Collective and has been featured in prominent media outlets such as Forbes, Cosmopolitan, ABC news, and the New York Post.
Thanks for listening!
Thanks so much for joining us this week. Have some feedback you'd like to share or a question you'd like to ask? Email us at [email protected]!
If you enjoyed this episode, please share it using the social media buttons you see in this post.
Also, we'd love it if you would leave an honest review for The Optimize Paleo Podcast on iTunes! Ratings and reviews are super helpful and greatly appreciated as it helps us expose this show to a wider audience and spread this information to more people who need to hear it. We read every review so we look forward to hearing from you!
And finally, don't forget to subscribe to the show on iTunes to get automatic updates…see you next time!
Click the button below to subscribe on iTunes: