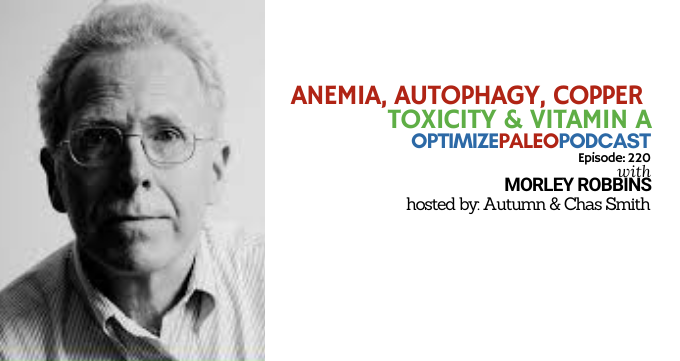 EP220: Anemia, Autophagy, Copper Toxicity & Vitamin A with Morley Robbins
IN THIS EPISODE:
Many Americans have been told to avoid dietary cholesterol at one time or another.
One of the unfortunate consequences of following this advice, is that many Americans also unintentionally eliminated the richest dietary sources of vitamin A - liver, eggs and cream. Given that we REQUIRE vitamin A (especially the retinol form found in animal products) for things like
Eye health
Immune function
Healthy reproduction
Clear skin
Energy production
Thyroid Health
Autophagy
According to this week's podcast guest, creator of the Root Cause Protocol, Morley Robbins, this avoidance of vitamin A rich foods,
" is one of the most devastating events in our nutritional history."
So if you're getting sick more often than you'd like, suffer from skin issues, or feel tired all the time, drop what you're doing and learn all about what most people (even experts) have gotten wrong about this critical nutrient and what you can do to optimize your intake!
Here are some of the surprising topics we cover…
Why paying attention to our mineral status is underrated
The downside of using most vitamin C supplements
Why copper is one of the most important minerals for vibrant health
Why there are iron filings in the American food supply
The difference between organic and inorganic iron
The role of copper in diabetes prevention
The truth about copper toxicity (and a little-known common cause)
The difference between retinol and beta carotene
How to accurately measure your iron status (we're not talking about ferritin, either!)
Why taking vitamin D in isolation is dangerous (and may cause kidney stones)
The true cause of anemia (that almost no doctor talks about)
The food we KNOW has healed anemia since 1934
The 2 nutrients (other than iron) that are necessary to heal anemia
Why vitamin A deficiency can make fasting LESS beneficial
Whether or not he thinks a vegetarian diet can be nutritionally adequate
Why many people cannot convert beta carotene into retinol
The best dietary sources of bioavailable copper
Why whole food vitamin C (but not ascorbic acid) can improve copper status
One of the first nutrients to check if you're hypothyroid
2 often-overlooked (yet critical) nutrients for thyroid health
Why copper is important for B vitamin metabolism
How to download his FREE Root Cause Protocol Guide!
And so much more!
Don't forget to share this important conversation with someone you know who would benefit from this information!
Links
The Root Cause Protocol Instruction Manual
Thanks for listening!
Thanks so much for joining us this week. Have some feedback you'd like to share or a question you'd like to ask? Email us at [email protected]!
If you enjoyed this episode, please share it using the social media buttons you see in this post.
Also, we'd love it if you would leave an honest review for The Optimize Paleo Podcast on iTunes! Ratings and reviews are super helpful and greatly appreciated as it helps us expose this show to a wider audience and spread this information to more people who need to hear it. We read every review so we look forward to hearing from you!
And finally, don't forget to subscribe to the show on iTunes to get automatic updates…see you next time!
Click the button below to subscribe on iTunes: