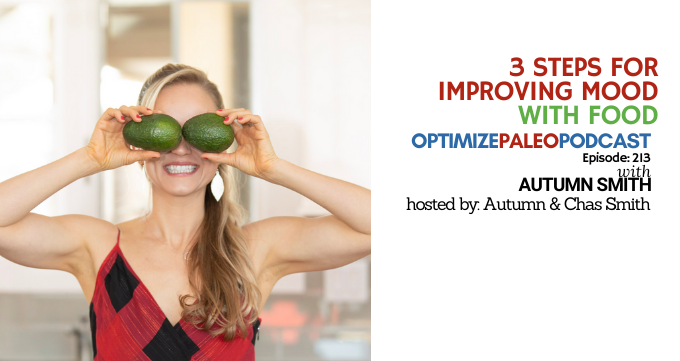 EP213: 3 Steps for Improving Mood with Food with Autumn Smith
IN THIS EPISODE:
Since I was a teen, I've struggled with mental health issues that no doctor (or psychiatrist) knew how to treat.
It wasn't until I adopted the paleo diet and suddenly felt calmer, clearer and happier than I had in YEARS, that I understood the food I was eating was affecting my emotions.
Today, the link between food and mood is a burgeoning area of research and something I've spent hundreds of hours studying, which is why this week's podcast is devoted to the 3 steps I've taken to keep my mood more stable than it's been in all my life AND some of the awesome new research I think you'll benefit from knowing about.
Here are some of the other topics I cover:
Common side effects of psychiatric meds
The foods moms eat when they're pregnant that increase their child's risk of mental health issues
The link between gluten and schizophrenia and psychosis
Hidden sources of gluten
Why the wrong kind of dairy may provoke mental health issues
The nutrient deficiency that almost ⅓ of those who are depressed suffer from
The super nutrient that helps keep me calm
The most important foods and nutrients for mental health
The food that will keep your brain 11 years younger if you consume it daily
The simple trick I used to avoid mood fluctuations
The link between depression and type 2 diabetes
The link between diabetes and Alzheimer's
The lifestyle hacks I use to keep my mood stable
The 2 perspective shifts that have improved my mood significantly
My New Year's resolution
And so much more!
Show Notes:
A Mind of Your Own by Dr. Brogan
Dr. Georgia Ede on Keto & Depression

The Tracy Anderson Method

Increased risk of future addiction - (thesis) / Increased risk of suicide for those on antidepressants (and GlaxoSmithKline's $3 billion fine)
Increased risk of suicide in kids
Fascinating gluten case studies

Sneaky sources of gluten
Upcoming research on mood and dairy

High quality animal products at wholesale prices
Vitamin B12 testing guidelines from Dr. Brogan

Vitamin C and mental health review

The difference between whole food vitamin C and ascorbic acid
Dr. Masterjohn's Nutritional Cheat Sheet

Oura Ring

Mental Health and keto review
Wired to Eat by Robb Wolf (how to test carbs individually)

Thriving Little's IG account

Brain Changer

Grain Brain

Optimum Nutrition for the Mind

Paleovalley Products
Thanks for listening!
Thanks so much for joining us this week. Have some feedback you'd like to share or a question you'd like to ask? Email us at [email protected]!
If you enjoyed this episode, please share it using the social media buttons you see in this post.
Also, we'd love it if you would leave an honest review for The Optimize Paleo Podcast on iTunes! Ratings and reviews are super helpful and greatly appreciated as it helps us expose this show to a wider audience and spread this information to more people who need to hear it. We read every review so we look forward to hearing from you!
And finally, don't forget to subscribe to the show on iTunes to get automatic updates…see you next time!
Click the button below to subscribe on iTunes: