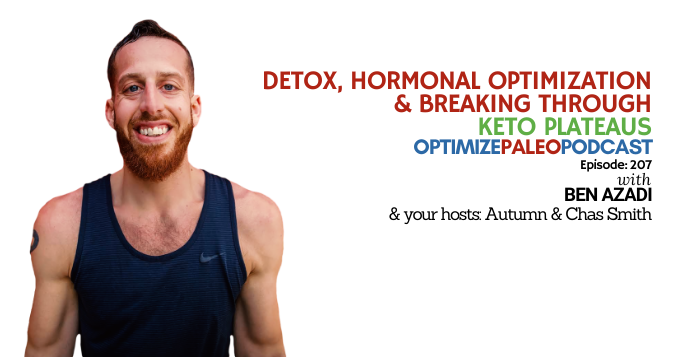 EP207: Detox, Hormonal Optimization & Breaking Through Keto Plateaus with Ben Azadi
IN THIS EPISODE:
The ketogenic diet can be a powerful tool for weight loss, craving reduction, brain health and perhaps even longevity.
BUT (and that's a big but) there are many simple mistakes that can negate all of these benefits and leave you feeling frustrated and burnt out.
For example - did you know that consuming the wrong type of oils has been shown to cause inflammation in your body for over 100 days after!?
It sounds crazy but it's true, so if you want all the juicy details on how to reduce inflammation, optimize hormone levels (listen up, keto ladies!), detox and how to avoid the #1 reason people fail on the keto diet, tune in to this week's incredible podcast with the founder of Keto Kamp, Ben Azadi!
Here are a few of the other gems you're in for...
The most important food for keto success
What you need to know if you don't have a gallbladder
The most inflammatory keto approved foods in the world
The TRUE cost of french fries (this will shock you!)
The food (that most of us eat) that is more damaging than smoking 2 packs of cigarettes a day
How to know if dairy works for you
The best fats for keto
How to avoid the keto flu
3 ways to break through a keto plateau
How you should measure success with keto (spoiler alert: it's NOT the scale)
Why keto can cause weight gain and how to avoid it
2 little-known things that could be interfering with your sleep
How to do a keto detox
Why the Biggest Loser will never have a reunion show
How to make keto FUN & practical
The best way to break a fast (and the worst!)
And so much more!
I hope you love this episode as much as I did! His story will make your hair stand on end. It's SO good. <3
Show Notes:
Bio:
In 2008, Ben Azadi went through a personal health transformation of shredding 80 pounds of pure fat. Ever since, Ben Azadi, FDN-P, has been on a mission to help 1 billion people live a healthier lifestyle.
Ben is the author of three best-selling books, The Perfect Health Booklet, The Intermittent Fasting Cheat Sheet, and The Power of Sleep. Ben has been the go-to source for intermittent fasting and the ketogenic diet.
He is known as 'The Health Detective' because he investigates dysfunction, and he educates, not medicates, to bring the body back to normal function. Ben is the founder of Keto Kamp; a global brand bringing awareness to ancient healing strategies such as the keto diet and fasting.
Ben is the host of a top 20 podcast, The Keto Kamp Podcast; and the fast growing Keto Kamp YouTube channel.
Thanks for listening!
Thanks so much for joining us this week. Have some feedback you'd like to share or a question you'd like to ask? Email us at [email protected]!
If you enjoyed this episode, please share it using the social media buttons you see in this post.
Also, we'd love it if you would leave an honest review for The Optimize Paleo Podcast on iTunes! Ratings and reviews are super helpful and greatly appreciated as it helps us expose this show to a wider audience and spread this information to more people who need to hear it. We read every review so we look forward to hearing from you!
And finally, don't forget to subscribe to the show on iTunes to get automatic updates…see you next time!
Click the button below to subscribe on iTunes: