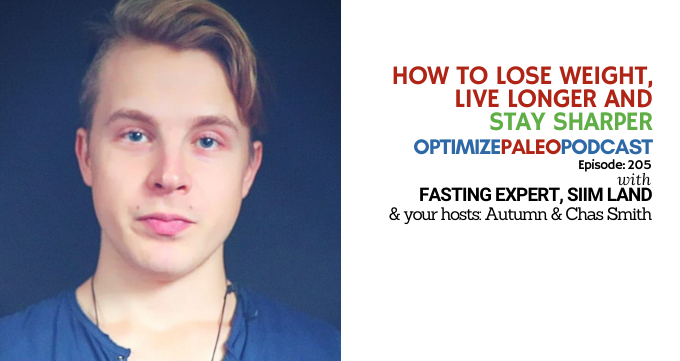 EP205: How to Lose Weight, Live Longer and Stay Sharper with Fasting Expert, Siim Land
IN THIS EPISODE:
Fasting is easily one of the most powerful dietary strategies we have today.
Research has shown it can improve weight loss, detoxification, brain function, and promote longevity. It's also been shown to decrease side effects of chemotherapy, reduce the risk of cancer in animal models, and I've even noticed it improves my mood dramatically.
BUT, there are many things you need to know before you jump in if you want to succeed.
The longest fast on record, for example, was 382 days completed by a Scottish man named Angus Barbieri. He lived on soda, vitamins, water, and coffee and lost 276 pounds.
Obviously, that is not where you begin.
(He was monitored by his doctors the whole time - do NOT try this at home!)
In this podcast, you'll learn how you can still eat everyday and reap the benefits with the advanced (yet practical) strategies from best selling author, speaker, anthropologist and biohacker, Siim Land.
Here are some of the gems you're in for...
The many benefits of fasting
How you can lose fat without eating less
How to age more gracefully
How to trigger more autophagy
How to know when to stop fasting
The best type of coffee to consume while fasting
A perfect beverage to kick autophagy into overdrive
The difference between time restricted eating and fasting
What you need to take on 3-5 day fasts
Why he's not a fan of long term fasts
The perfect food to break a fast
The best time to fast during the day
Strategies for improved sleep
Where to begin!
...And so much more.
Tune in now! And please share this podcast with a friend you think may benefit.
Show Notes:
Get the FREE Autophagy Cheat Sheet HERE! - Start activating your anti-aging pathways today!
Try Paleovalley Bone Broth 100% risk-free HERE! - The perfect food to break a fast with!
Thanks for listening!
Thanks so much for joining us this week. Have some feedback you'd like to share or a question you'd like to ask? Email us at [email protected]!
If you enjoyed this episode, please share it using the social media buttons you see in this post.
Also, we'd love it if you would leave an honest review for The Optimize Paleo Podcast on iTunes! Ratings and reviews are super helpful and greatly appreciated as it helps us expose this show to a wider audience and spread this information to more people who need to hear it. We read every review so we look forward to hearing from you!
And finally, don't forget to subscribe to the show on iTunes to get automatic updates…see you next time!
Click the button below to subscribe on iTunes: