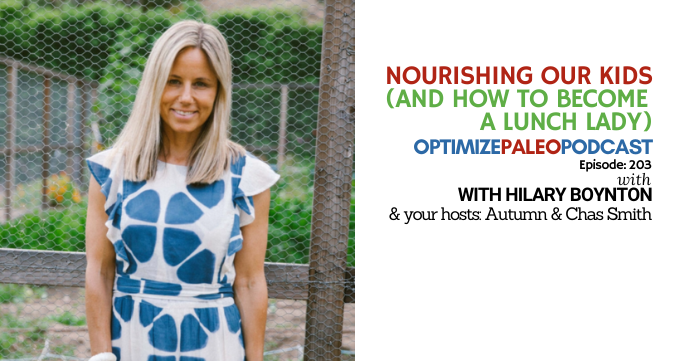 EP203: Nourishing Our Kids (and How to Become a Lunch Lady) with Hilary Boynton
IN THIS EPISODE:
For the first time in two centuries, the current generation of children in America may have shorter life expectancies than their parents.
This breaks my heart.
Fortunately, there is a LOT we can do to change the course of our children's health for the better, which is exactly what we're chatting about with mom, author, gut expert and lunch lady, Hilary Boynton.
Here are some of the awesome topics we cover in this podcast:
Why Hilary loves medicinal mushrooms (and which ones to take for better energy)
The popular diet trend that caused Hilary's health to deteriorate
How to navigate our junk food-driven environment gracefully
How to get our kids to eat healthful foods long term
Simple steps we can take to cultivate healthy guts
How to get your kids to eat organ meats
How to teach your kids about food quality
The difference between a "being" and "doing" parent
How to become a lunch lady
And so much more! Don't forget to share this information with anyone you think it may benefit.
Show Notes:
Checkout Hilary's Best Selling Cookbook- The Heal Your Gut Cook Book
Bio:
Hilary Boynton – The Lunch Lady
Hilary Boynton is the author of The Heal Your Gut Cook Book and the Head of Nutrition Services at The Manzanita School in Topanga, CA. After seeing the power of food as medicine with her own family, she passionately dove into the challenge of solving school lunches. After years of frustration, she decided it was time to roll up her sleeves and become the "Lunch Lady" herself. Returning her children's school to an ancestral way of eating is eliminating dietary confusion and changing lives on all fronts! From the children and staff eating the lunches to the farmers and purveyors raising, growing and supplying the food, to the dedicated lunch leaders lovingly preparing the lunches, her concept is so infused with love one can't help but want in. She believes a grassroots effort and bottom-up approach is where it's at. Hilary is most proud to see this infuse into the children's homes where this way of eating now becomes the norm, and people are once again valuing time spent around the table with family, locally sourced seasonal foods and great conversation!
Thanks for listening!
Thanks so much for joining us this week. Have some feedback you'd like to share or a question you'd like to ask? Email us at [email protected]!
If you enjoyed this episode, please share it using the social media buttons you see in this post.
Also, we'd love it if you would leave an honest review for The Optimize Paleo Podcast on iTunes! Ratings and reviews are super helpful and greatly appreciated as it helps us expose this show to a wider audience and spread this information to more people who need to hear it. We read every review so we look forward to hearing from you!
And finally, don't forget to subscribe to the show on iTunes to get automatic updates…see you next time!
Click the button below to subscribe on iTunes: